Five reasons I upgraded from the 2012 Google Nexus 7 to the 2013 Google Nexus 7
When Google announced the second generation Google Nexus 7 by ASUS last summer, I kept telling myself that I could get by with the 2012 version for another year. Did I really need to spend several hundred dollars on an upgrade? Did I really need that nicer screen or LTE? Shouldn't I be responsible and save my money for something else?
But when it comes down to it, I have very little willpower – especially when it comes to sexy new electronics. It's one of the reasons I upgraded to a Nexus 5 only a few months after getting a Nexus 4, and why I now find myself with two Nexus 7 tablets – a first and a second generation. (My 2012 Nexus 7 will be sold soon, though, so I'll recoup at least some of the cost of upgrading.)
But in addition to a lack of willpower or fiscal responsibility, there are some other more compelling reasons why I finally decided to take the plunge. Here they are.
1. The specs are better on paper.
Just take a look below: The second generation Nexus 7 has a faster processor, more memory, a higher-resolution screen, a back camera, dual speakers, and wireless charging. The only place where the first generation beats the second is battery life – but only by one hour of active use.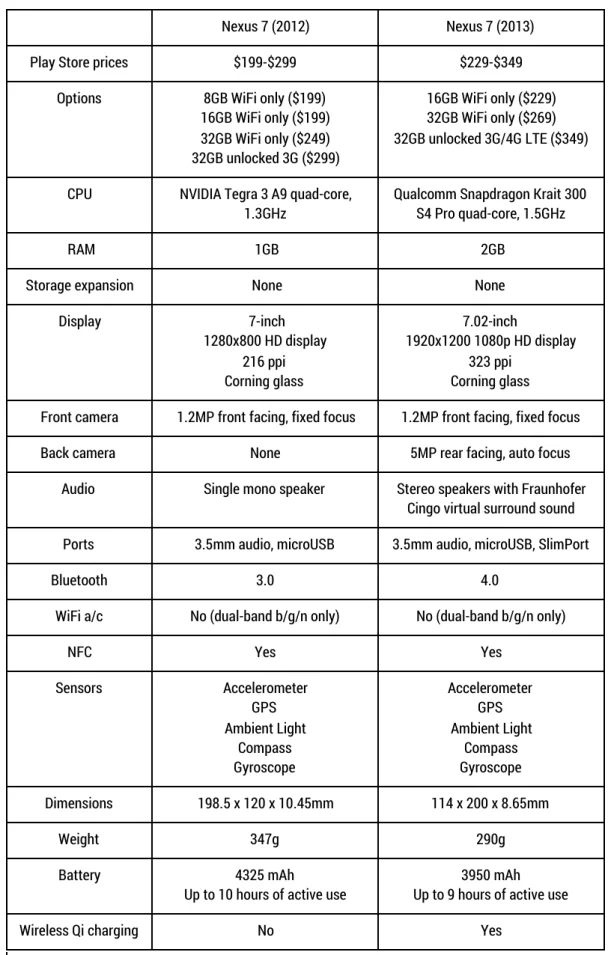 2. The screen is amazing.
Until you hold the Nexus 7 2012 next to the Nexus 7 2013, you won't know what you're missing. However, once you view the two screens side by side, you won't be able to go back to the old Nexus. My reaction here is similar to the one I had the first time I used the Chromebook Pixel – this is the highest ppi of any tablet I'm aware of, and it even rivals my Pixel in terms of clarity and brightness. (Did I mention that this screen gets incredibly bright, with vibrant colors that would even give the best AMOLED screen a run for its money?) Text actually looks sharper than on the printed page, so you can imagine how much of a delight books and magazines are. And Netflix is stunning.
3. The dual stereo speakers are loud, crisp, and clear.
I'm actually really impressed with the speakers on this tablet. They get really loud, with little to no distortion even at the highest levels. I'm not an audiophile by any means, but I can definitely tell the difference between these speakers and the ones on my old Nexus 7. Apparently the technology behind the surround sound comes from the same people who invented the MP3, too.
4. The form factor is lighter and sleeker.
Even though the second generation packs in a back camera and LTE radio, it is actually thinner and lighter than the original Nexus 7. The rubberized back is replaced with a soft matte black plastic, which feels premium and is comfortable to hold in either landscape or portrait mode (to me, at least). Side by side, the older Nexus 7 just feels clunky and outdated.
5. It's got a back camera.
Yeah, yeah – who actually uses tablet cameras, anyway? Actually, it's becoming more and more common to take pictures with tablets, and while the camera here is only 5MP and doesn't even include a flash, at least it's there. I can't tell you how many times I've been on my couch with my tablet, while my phone charges in the other room, and one of my pets does something hilarious. With the second generation Nexus 7, at least I can still quickly snap the picture or take a quick video, even if the quality isn't the greatest. I like options, and this tablet gives me the option.
Bonus: I get free LTE data on it each month.
As an added bonus, T-Mobile offers all tablets, including the new Nexus 7, 200MB of free 4G LTE data each and every month. There are no strings attached, and you don't even have to be an existing T-Mobile customer. While I probably would have upgraded to the new Nexus 7 even without this, T-Mobile's offer is what ultimately made me decide to go with the LTE version, rather than the WiFi-only version.