Fully working Sense 5 makes it to rooted HTC EVO 4G LTE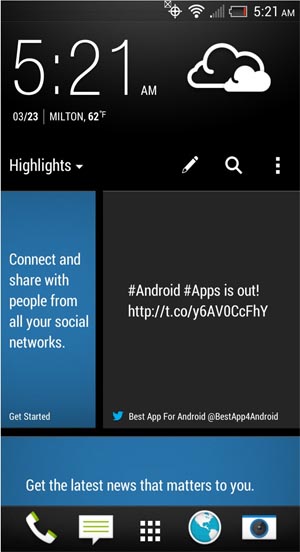 There have been a couple of Sense 5 ports in the works for a few months for the HTC EVO 4G LTE, but until now there was always something that just didn't work. That evidently has changed this weekend, when a reportedly fully working Sense 5.0 running Android 4.1.2 was released for the device.
I'm not even sure who to credit on this project, but last week a developer by the handle Sun_Dream brought a Chinese version of the Sense 5 ROM to the EVO 4G LTE. Several people have been working on since then, and yankees2450 posted a fully English version.
While it's touted as fully working, it should be noted that probably means you should consider all the devices that the EVO 4G LTE contains as working properly, as I am seeing a couple reports in the development thread of things being slightly funky, but that's how it goes in the early days of most ROMs.
You can visit the developer thread here, and the post containing the English download I'm going to be playing with shortly is located here.
yankees2450's change log lists the following as working:
MMS, camera, video recorder, YouTube, WiFi, Bluetooth, 3G/4G, Google Maps, Beats Audio, FM Radio, Google Play/downloads and fast, Chrome, Gmail, transfer contents, BlinkFeed (Twitter, Facebook, LinkedIn, Flickr), NFC, compass, car (car mode?), Google search, Google drive.
As with any ROM flashing, make sure you have a complete nandroid backup handy in case the port decides it doesn't like your phone. Additionally, with the ROM zip being nearly 900MB, the chances of a corrupted download are pretty high, so make sure to download this on a computer and test the zip out before you flash it.
I'm waiting on a backup to complete and will hopefully be heard from later with a hands-on review of this long-awaited EVO 4G LTE development.