Quirky Contort Power review
The Quirky Contort Power is a self-described perfectly portable true power-sharing arrangement and cable organizer. The idea is to free up space by taking one outlet and expanding to the side and down slightly, while adding two USB ports for tablet/phone charging.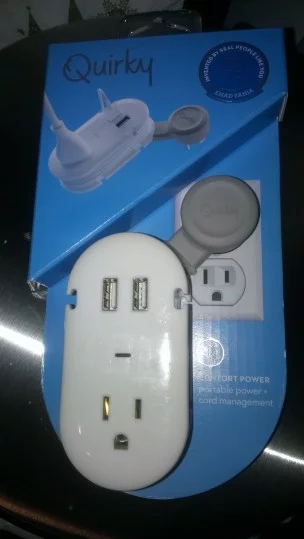 In other words, you can get three plugs worth of options out of one device. It replaces two brick adapters and leaves a wall plug that is slightly to the right or left of the actual outlet.
Quirky Contort Power unboxing
The very first thing I had to do was remove the one zip-tie that was holding the device in. Unfortunately, it was zipped so tight the only thing I could wedge under there was a knife, and I proceeded to saw through the zip tie to remove it. (If you notice that I'm talking quite a bit more about packaging than I normally do, that's probably because the next result was the Contort Power taking a dive right off the counter where I was doing this, working very hard to bury itself in the earth's molten core.)
This led to having to locate pliers to bend a bent prong back and watching it as it sat plugged in for a bit before I would plug anything into it. Have some pliers with cutting ability or small scissors handy, or be better with a knife than I am. The slickness of the face plate defies 1960's laminate counter-tops.
Contort Power in action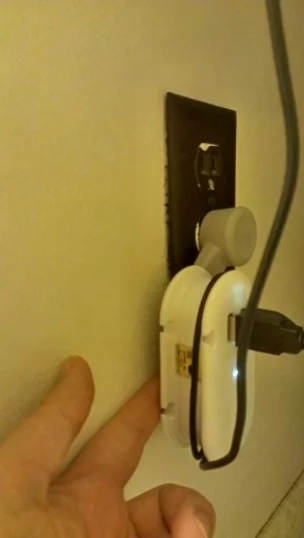 What I did not expect from this was the weight of it. Any other adapter I've used like this is light. Perhaps due to the off-setting of the plug the weight is added, or maybe it's a higher quality AC/DC converter that's packaged in the thing. I don't know.
The device does what it says it will do, and that's deliver power to two USB devices and an outlet. It also provides a base to wrap the cords around that works for kitchen plugs and any place where you actually might need to wrap up the cords some. In my home, nearly all of my outlets are all at about one foot off the ground and all my cables are three to four feet, so for me cable shortening is most likely not a feature I'll use.
One of the things I noticed was that, on my outlets, the Contort Power sticks out pretty far. While all adapters stick out relatively far, this is the only adapter that I've ever worked with that sticks out at an angle. This means that, when someone trips over the power cord you have plugged into it, the source outlet is going to be twisted before the cord pops out. I'm not particularly familiar with what happens when you apply an extreme twist to a standard wall plug, but I'm betting broken plastic and a busted outlet are probably the worst you probably would get.
The Contort Power also has a little light, and I'm not sure why it's there. If you possess any form of smart device, any one that's plugged into the USB will probably tell you it's charging with an indicator light. There's no reason for it to light up in my opinion, and adds to making rooms less dark and looks like a random dot in the dark.
It also shines through the plastic so your top outlet is glowing for no reason other than thin white see-through plastic. When you pull the device from the wall the light keeps shining for a while also.
But it works. Total USB output appears limited to 5amps however, so you're probably not going to be charging a phone and a tablet quickly off of this device.
Standalone wrap-up on the Quirky Contort Power
Considering Quirky's reach, you can probably find this locally (I've found Quirky products even in the Home Depot, it's a pretty nice space saving unit.
I have my worries about it being so far over and as far out as it is, but it works. You'll know if that's what you need simply by looking at it, and if it were not potentially placed at tripping level I wouldn't have any reservations about using this at home.
However, as I've been writing product reviews for a while now, I realized I have another device in my possession that is a two USB three power outlet extension, so we're going to compare against that from here on.
Quirky Contort Power vs Accell travel surge protector
I did a review a while back on the Accell travel surge protector. This is a device that has the same basic function of the Quirky Contort Power but is significantly lighter and has folding travel prongs.
USB total amps: Quirky Contort Power 5amp, Accell 2.1amp
Weight: Contort Power 8oz, Accell 5oz
Foldable travel plug: Contort Power no, Accell yes
Annoying light: Contort Power yes, Accell yes
Useless light: Contort Power yes, Accell no (surge protection light)
Outlets used: both use one, and do not cover the remaining on standard plugs
Wall plugs added: Contort Power one, Accell three
I really want to say that in a throwdown the Accell would be the clear winner. It's lighter, less expensive, has a folding travel plug, looks to be better designed, and the light at least means something. Unfortunately, the total amp limit of 2.1 on the Accell USB ports means you can charge one phone at full speed or two phones at half speed and charging a tablet plus a phone just isn't going to happen.
However, it should be noted that neither of these are particularly useful for charging tablets given the amp ranges they require. They're both probably able, but you may be charging for a very long time if your device will even charge at below 2.5amps (which evidently is a problem according to feedback on the Contort Power).
Availability
The Quirky Contort Power is available for $22.58 on Amazon.