Samsung Galaxy Note 3 review
I've had my Samsung Galaxy Note 3 on T-Mobile for a little over three weeks. Originally, I had started my Uncarrier relationship on T-Mobile with the purchase of an Apple iPhone 5s, but I switched the devices out when T-Mobile began offering the Galaxy Note 3 for no money down and monthly payments that were $5 more each month.
I've had a lot of time to go over my decision and figure out if it was the right one for me. It's a far bigger phone than the iPhone 5s – but does bigger mean better in this case? Keep reading my review of the Samsung Galaxy Note 3 to find out!
Quick Specs
The most prominent – and important – feature of the Galaxy Note line has always been its large, beautiful display. This year's iteration is no different: the Galaxy Note 3's screen is a massive 5.7-inch, 1920 x 1080 Super AMOLED behemoth. Like every Note before it, the Galaxy Note 3 also has a Wacom digitizer built into the screen for incredibly accurate stylus input.
A Qualcomm Snapdragon 800 quad-core processor clocked at 2.3GHz, an Adreno 330 GPU, and 3GB of RAM all come together to help drive the large display and Android 4.3. Powering those high-performance components is a similarly-beefy 3200mAh battery.
The camera on the Galaxy Note 3 is of the 13 megapixel variety, and is capable (on the Snapdragon 800 model only) of shooting at 4K resolution. To store those massive files, you can get the device with 32GB or 64GB of internal storage, and you can expand your internal storage with a microSD card.
Simply put: the Galaxy Note 3 is a beast of a phone.
Packaging
Samsung took a very elegant approach to the packaging the Galaxy Note 3 comes in. It feels and looks like a soft, light wood; however, it's still just cardboard. Inside, you'll find the Galaxy Note 3 itself, a bunch of documentation from your carrier and Samsung, and the replacement S Pen tips.
Samsung has been getting better at its packaging in recent years: the carriers used to be very influential on the design of the packaging for Samsung phones before the manufacturer became the largest in the world. You'll likely not look at the box every day, but the experience of opening a package that doesn't feel slimy and low-cost really prepares you for what you can expect using the device.
Hardware
For the tour around the hardware of the Galaxy Note 3, we'll  start at the bottom. Keen to stay away from Google's software buttons, Samsung has include capacitive Menu and Back buttons, as well as a physical Home button (that will sometimes become crooked). Beneath the buttons is the microUSB 3.0 port that allows for quick charging and data transfers, and next to it is the loud and clear speaker.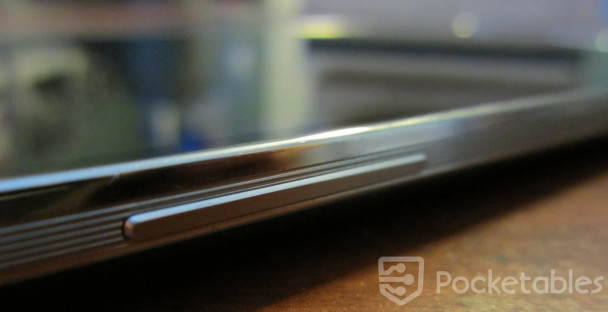 The left side of the device houses just the volume rocker. It's decidedly clicky and it feels very similar to the iPhone 5/5s' volume keys in terms of overall clickiness and accuracy.
Up top is where the 3.5mm headphone jack is, as well as an extra microphone for noise cancelling purposes. You'll also find the IR Blaster here, too, which is useful for controlling your television and other electronics that have an infrared receiver on them.
The right side of the Galaxy Note 3 is home to only the power button – which, thankfully, is also very clicky and accurate.
Here is the back of the Galaxy Note 3, where you can see the brand new, faux-leather backing that Samsung used for the device. It really does feel like leather: soft and textured just like real leather, it adds a sense of elegance and quality that hasn't been on previous Samsung phones. And that's a good thing – that glossy, slimy plastic Samsung is known for really needed to be replaced by something, and the fake leather is a perfect replacement.
The 13MP camera is also on the back, and produces a slight bump. This means that the Galaxy Note 3 will always be a slight angle when you rest it on the camera lens, but it isn't enough of an incline to pose any problems. It does mean, however, that there is a bigger chance for a lens scratch to occur; just be careful where you rest the phone and you won't have any problems.
Screen
Samsung has never skimped on its flagships' screens, and the Galaxy Note 3 is no exception. Coming in at a resolution of 1920 x 1080, the Super AMOLED panel on this device is, in a word, stunning. In addition to the incredibly high pixel density of 386PPi, colors are incredibly bright and at times oversaturated; blacks are the deepest you can get on a mobile display (since Super AMOLED displays don't even light up pixels to show black on-screen); and the display's brightness is plenty for every scenario – including direct sunlight.
In fact, the display is so good that it has become my go-to device for Netflix. That task was handled very well by my Microsoft Surface Pro and its 1080p IPS panel, but the colors are so saturated and beautiful on the Galaxy Note that looking at most of my other displays is a disappointment. Do note, however, that the colors are very saturated; they tend to look unreal, and the saturation really only works with animated shows. If your taste is more suited to live-action titles, keep this in mind: most scenes have a very fake style to them.
Software
The Galaxy Note 3 comes with Android 4.3 Jelly Bean installed. It's definitely no Kit Kat, but it's not like you'd notice anyway: TouchWiz is in full force here, meaning there are very few places in the operating system that haven't been reimagined by Samsung.
In fact, the only preinstalled apps I could find that hadn't been mucked around with by the company were in Google's apps; Music, the Play Store, and the rest of the apps that are offered by Google are adorned by the company's beautiful Holo theme. It strikes a stark contrast to Samsung's bubbly, colorful, and overall nauseating TouchWiz skin.
I've been using the Galaxy Note 3 just as it comes from Samsung for the past week – no launchers or custom ROMs for me, yet. Oddly enough, I've been able to adjust myself to at least bear the site of TouchWiz every time I unlock my phone. I've even gotten used to the incoherent Settings app, though that took a very, very long time.
There's a part of me that tells me I need to keep things the way they are. Samsung's S Pen apps work incredibly well and I actually use them, and I'm afraid that the seamless integration of those S Apps and Android would go away with a new installation of a custom ROM. Then again, TouchWiz is really bad; if you can stand the changes that were made, then more power to you. But I'm a fan of stock Android, and I might have to give up a bit of functionality in my S Pen for added functionality in the rest of the operating system.
Performance
The Galaxy Note 3 comes with a 2.3GHz Qualcomm Snapdragon 800 quad-core processor, an Adreno 330 GPU, and 3GB of RAM. This makes it one of – if not the – most powerful smartphones in the world.
That power shines through to day-t0-day use. From the simplest to the most monumental of tasks, the Galaxy Note can handle anything you can throw at it without any hiccups. In fact, not even watching an HD YouTube video and scrolling through a picture-heavy Facebook News Feed could slow the Note down. The 3GB of RAM and insanely powerful processor really come together and produce the best-performing mobile device that I currently own.
Thanks to the Adreno 330 GPU, games and other graphics-intensive applications are also handled with no problems whatsoever. Frame rates never drop below a fluid level with the highest settings, and because of that, everything looks beautiful. Unfortunately, a lot of the graphics processing power in the Galaxy Note 3 is wasted by the lack of quality, entertaining games on Android. If you're looking at a phone that can handle any amount of Android gaming, this is the one to get – but don't expect a powerful GPU to make up for the fact that a lot of mobile games are just timewasters.
Benchmarks
It should be noted that Samsung has been accused of (and proven to be) skewing its devices' benchmark scores so they appear to be more powerful than the competition. We'll still throw in benchmark scores for a point of reference, but they should all be taken with a grain of salt.
Antutu
Quadrant
LinPack
Vellamo
Phone Calls
Phone call quality is another area in which the Galaxy Note 3 shines. The earpiece is loud and crisp, as is the speaker for speakerphone calls. Reception will, of course, depend on which network you've signed up with; I'm on T-Mobile, which means I'm able to use WiFi for my calls and texts whenever I'm connected. When I'm not on WiFi, T-Mobile's network is very reliable – I've yet to drop a call on the carrier's mobile network.
Connectivity
All the nationwide networks in the US will offer the Snapdragon 800-equipped Galaxy Note 3, which is the model that's equipped with LTE radios. If you live in a market without LTE, you will be getting the octo-core Exynos 5 Octa 5420 model.
Regardless of the processor inside, every Galaxy Note 3 has Bluetooth 4.0, NFC, and an IR Blaster at the top of the device. For charging and data transfers, Samsung used a microUSB 3.0 port. It allows for faster charging and data transfers, but it also features a microUSB 2.0 port in case you've only got that cable on you.
Camera
Android cameras have never really impressed me, but the 13MP shooter on the back of the Galaxy Note 3 is one of the best I've used. It doesn't hold a candle to the Nokia Lumia 1020 or either of the latest iPhones, but it can certainly turn out some nice results when the conditions are right. Low light performance is abysmal, though, and the LED flash doesn't really help. If camera performance is incredibly important to you, you're probably looking at a different phone anyway – but just know that the Note's shooter will suffice if a camera is a lower priority.
Battery Life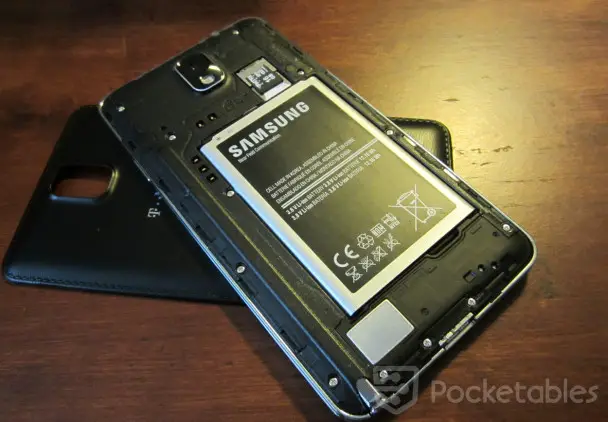 The Note series has been known to be among the longest lasting devices available. Thankfully, the Galaxy Note 3 lives up to that expectation. The battery itself is rated at a whopping 3200mAh. The battery is very big, but so is the battery life you get from it: I have no trouble going through an entire day of heavy use and coming home with 30% charge left. That's after leaving the house with 80% battery left, and using it from 8 a.m. to 6 p.m. And, by the way, that's leaving all of my connectivity options on and the screen on auto brightness.
Your battery life will vary depending on what you do with your phone, of course, but nobody will have an issue getting through an entire day of use without charging the device.
Conclusion
For all of the Galaxy Note 3's positives, there is one big negative that you may be unable to overcome: it's a damn big phone. To be perfectly clear: if you purchase this phone, you can forget about one-handed texting; nearly every task will require two hands. The only time I catch myself using one hand is when my phone is on a table or I'm just scrolling through a news feed.
The word "phablet" really describes the Galaxy Note 3 perfectly. It feels just like holding a tablet in your hand to take a call, and while I got used to the size over time, it's not a phone for everybody. The Snapdragon 800 is a screaming fast processor, but if that's what's selling you on the Note 3, then look to the LG G2, the newly-announced Nexus 5, or even the Sony Xperia Z1. They all come with a nearly-identical set of internal hardware (though 2GB of RAM is standard, not the 3GB like in the Note), and they're all much, much easier to handle.
That said, the Galaxy Note 3 is worth a long look if its size doesn't intimidate you.