Google updates a ton of Android apps and brings us a ton of awesome new features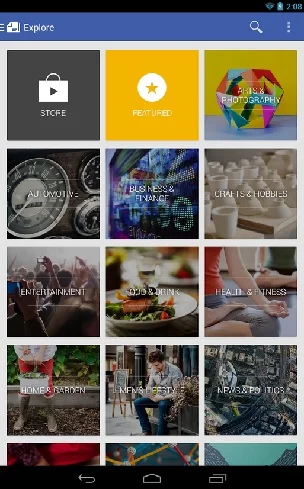 Over the past few days, a lot of Google's Android apps have gotten significant updates that bring us a lot of awesome new feataures. So many new features have been flying around the blogosphere that it might have been difficult for some of you to keep track of them all, but don't worry – that's what we're here for.
Here are the updates you need to know about.
Google Play Newsstand (formerly Magazines and Currents)
Google Play Newsstand is now available for everyone, and it will replace Google Play Magazines on your device. However, the app goes one step further in rolling Google Currents into the app, as well. I'll personally be playing around with this more over the next few days, but for now, suffice it to say that I really like what I see – it is basically becoming the go-to place for news, including digital editions of newspapers and magazines, along with online feeds that publishers can customize (kind of like RSS on steroids).

Download: Google Play
Google Wallet
An update to Google Wallet is rolling out right now that offers all devices running KitKat with NFC the ability to tap and pay, regardless of previous carrier or device restrictions. This means that the new 2013 Google Nexus 7 by ASUS will finally have this ability, even though it doesn't have a hardware secure element. The Moto X on AT&T, Verizon, or T-Mobile will also support tap and pay through Google Wallet once it gets udpated to Android 4.4. Even devices running AOSP-based custom KitKat ROMs will be able to make use of this feature, as well.
Clearly Google's new Host Card Emulation was a good idea and will hopefully help Google Wallet adoption become more widespread.

Download: Google Play
Google Drive
The latest version of Google Drive for Android focuses on content creation, bringing a host of new editing tools to its mobile interface, including the find and replace feature, inserting and managing tables, and named styles. File management has gotten better, as well, with the ability to rename scans before upload, view your files in a two column layout on tablets, and sort by storage quota used (I've been wanting that last feature for a long time).

Download: Google Play
Google Translate
The new Google Translate has a new language-switching gesture and even more supported languages. The app also has a microphone icon that lets you and another person speak into the device in two different languages and have the results translated. (Combine that with T-Mobile's new global data roaming, and you've got a recipe for success.) Additionally, the handwriting feature has been augmented to recognize and translate more languages, including Hebrew, Greek, Japanese, and even Esperanto. The camera translation feature now also supports Malay and Ukranian languages.

Download: Google Play
HBO Go
While this one isn't specifically a Google app update per se, it does affect practically everyone who has a Google Chromecast who also subscribes to HBO. The app has just been updated, along with its iOS and web counterparts, to support casting to the Chromecast. In typical Google fashion, it looks to be a staggered roll out over the "next few days," so it might not be available for everyone right away. Once it does come to you, though, it will make your Chromecast that much more awesome than it already is.

Download: Google Play
[Android Police:
1
,
2
| Android Community:
1
,
2
| 
Google
]