Tip: Chrome Beta for Android is now searchable in the Play Store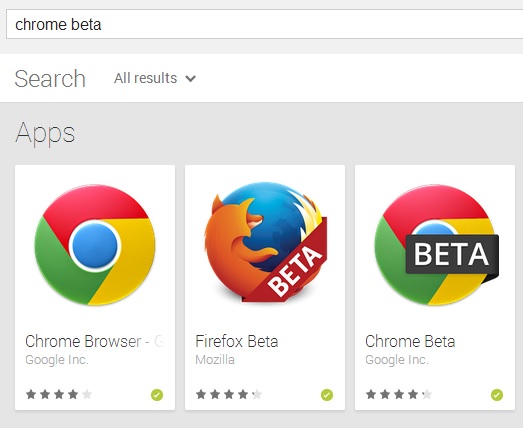 Good news, fellow Android power users: Chrome Beta for Android is now finally searchable in the Play Store on the web and on your Android device. Previously, because of its beta status (and to keep "noobs" from complaining too much, I'm sure), Google had hidden the app from Play Store searches. Until now, that meant users who wanted it needed to obtain the direct link in order to download it.
This doesn't mean that Chrome Beta is completely safe, though. Just a few weeks ago, I was experiencing a bug with the browser on my LG Nexus 4 that caused the device to reboot if the screen was allowed to turn off while the browser was open. It was an incredibly annoying bug that took me way too long to figure out (my phone rebooted probably a dozen times before I discovered the cause) – the moral of the story here is that you should continue to use the browser at your own risk.
Also interesting is that Chrome Beta appears after Firefox Beta. In any case, if you want it, it's now much easier to find. So easy, in fact, that I won't even include a QR code this time. Enjoy!
[
Android Police
]