Using the Android 4.4 KitKat keyboard on a Samsung Galaxy Note 3
Today, Google released the Android 4.4. KitKat keyboard on the Play Store. That means you can just head on over to the Play Store on your Android device, type in "Android keyboard," and download it for free. It should be noted that only KitKat users are able to access Emoji from the keyboard, though.
Interestingly, Google specifically lists that three screen sizes – 4-, 7-, and 10-inches – have "rationalized punctuation."  Simply, this means that there are three, slightly varied layouts for the keyboard – one for each size that's listed. I thought it would be interesting, then, to see if the Samsung Galaxy Note 3's 5.7-inch screen would choose the 4-inch layout or the 7-inch layout, and whether the one it chose would be usable on a screen size that Google didn't keep in mind while designing the new keyboard.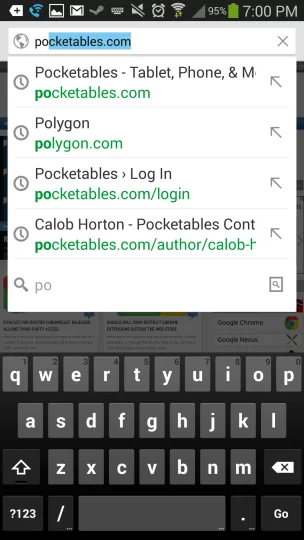 Unsurprisingly, the 4-inch layout is the one used by the Galaxy Note 3. What I was really interested to see, however, was how the "4-inch" layout would work on a larger display. It's nearly an entire inch larger than the new Nexus 5, even though they have the same resolution, which means that things will appear larger on the Note than the Nexus. This made me start to worry about how big the spaces between each key would be on-screen – and how that might affect its usability.
Luckily, that extra inch of screen real estate doesn't affect the keyboard negatively; in fact, any negative effect the added space between each key has is easily negated by how big each key is.
That is actually quite important on such a big, high-resolution display. On the awful TouchWiz keyboard, the keys are much smaller than the ones on Google's keyboard keys to make way for a lot of cruft that Samsung thought was of the utmost importance to put there. Typing is hard, and it's not made any easier by the lack of an autocorrect feature. KitKat's keyboard is simplistic and big, leaving enough room for all of the keys – as well as the fantastic autocorrect and predictive text features.
KitKat's keyboard (sans Emoji, unfortunately) is available for Android users who have 4.0 and up installed; and if you like usable keyboards, I suggest you scan this QR code or hit that Google Play link up and download it right away.
Download: Google Play