HMDX Burst portable speaker review
The HMDX Burst is a powerful little gel-covered portable, rechargeable wired speaker on par with the original  HMDX Jam, surprising me with how loud something so little can be.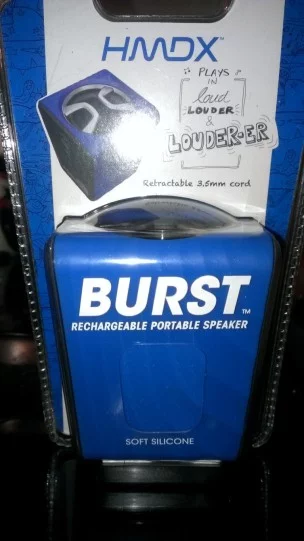 Like the Jam, it's not something you can pocket very easily; however, it's potentially pocketable in a jacket or coat.
Burst specs
3.5mm jack, ~12-inch retractable stereo cable
6 hour battery life (rechargeable via micro-USB)
Available in blue, purple, gray, yellow, and orange
2.25 x 2.25 x 3 inches
Rubberized soft exterior
On/off button (required two second press)
HMDX Burst in action
The Burst is loud. It fills a room with sound. It can probably fill a room full of people with sound. Unfortunately, at higher volumes, that sound starts losing definition very quickly. Bass disappears, and treble become cardboardy, but it still powers through. So I'll start by saying that I dislike this as a party speaker. However, portable speakers generally are not set up for that to begin with.
This speaker is rugged, shoots sound in one direction, and is probably most useful for projects where you want to bring some music with you and you're afraid of dropping the speaker off of a rooftop or something.
I think that's probably where this speaker is suited – outdoor use. Unfortunately for outdoor use, the Burst is not water resistant, not drop proof, and not particularly rugged feeling (unlike its cousin the HDMX Jam XT,) so outdoor use on sunny days only.
Wrap-up
There are better products out there for the size, plenty that sound better, but the price point is actually pretty good for a tag-along speaker for outdoor activity. This isn't a product for your audiophile friends, but it's pretty decent for filling the outdoors with sound while you're gardening, painting, etc.
The HMDX Burst is available from Amazon for between $19.21 and $21.99 based on color choice.