Microsoft to offer Dell Venue 8 Pro for $99 on Monday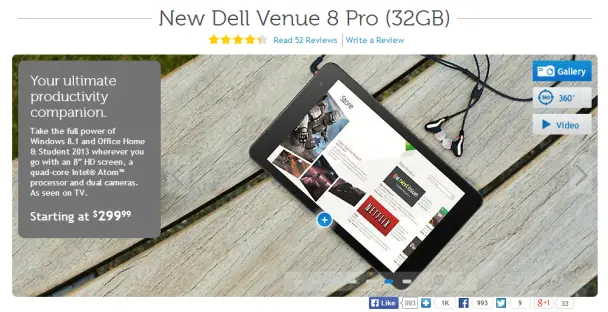 Just because Black Friday and Cyber Monday have come and gone doesn't mean you won't be able to find some more great deals for the special ones in your life before the year ends. One such deal is being offered by Microsoft this Monday: for lucky, early shoppers, Microsoft will sell you a Dell Venue 8 Pro for just $99 – a savings of $200!
The Dell Venue 8 Pro is an Intel Bay Trail-based tablet, meaning that it runs a full installation of Windows 8.1; you can run your favorite desktop Windows applications, as well as all the Modern UI applications downloadable via the Windows Store. A 1.8GHz quad-core Intel Atom processor, 2GB of DDR3 RAM, and 32GB of internal storage (expandable through a microSD card slot) round out the internals. The 8-inch IPS screen features a resolution of 1280 x 800 – the same as last year's Nexus 7 – allowing for HD video playback through your favorite video services.
If you live near a Microsoft Store, get there on Monday as early as possible: stores will only offer 20 devices at the $99 price point. After that, the tablet will still be discounted at $199 while supplies last. The Microsoft online store will also offer the tablet for $99 to the first 100 customers, and for $199 while supplies last after the initial batch is sold out.
Reviewers have praised the tablet for incredibly long battery life, durable build quality, and an amazing screen. At $99, this is a fantastic deal; and even at $199, prospective buyers will have to choose between this and a number of other tablets at that price point – including last year's Nexus 7.
If I can get my order in quickly enough on Monday, I will be purchasing one of these. A full-blown, long-lasting Windows PC that is identical in size to an iPad mini is an intriguing concept for me – is it for you?
[
Microsoft
via
The Verge
]