PSA: App ops no longer works in Android 4.4.2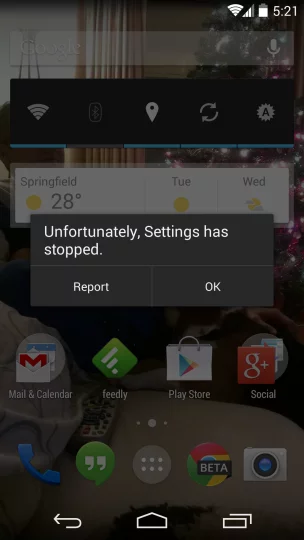 After all of Google's awesome Android news from earlier today, here's one piece of disappointing news: it looks like the hidden but useful App Ops feature is dead on arrival in Android 4.4.2. If you recall, App Ops was a hidden feature introduced in Android 4.3 that let you selectively disable permissions for your apps with absolutely no root required.
The only caveat was that it was hidden deep within Android, not accessible through the standard settings menu. Instead, you needed to download an app that would act as a shortcut, use a launcher that allowed you launch custom activities, or use an app like QuickShortcutMaker to make a shortcut to this activity on your homescreen. Unfortunately, it seemingly disappeared completely from Android 4.4, until a developer found a way to access to the shortcut and wrapped it in a nice app to download.
But now, not even that works. Attempting to access App Ops in Android 4.4.2 is met with the force close you see on the right. It looks like Google is really trying to restrict access to this, perhaps to appease angry app developers, or maybe in an attempt to get people from messing around with stuff that they're not too familiar with.
The developer of the shortcut that was working on Android 4.4 and Android 4.4.1 says, "We are working on a fix, but there are no guarantees yet." That doesn't sound too promising.
Granted, this feature is still accessible by root users, but the appeal of App Ops was that anyone could use it – rooted or not. There's still hope that a way might be found to access this again, or that Google inadvertently did something to break this not on purpose, but I'm not going to hold my breath.
For now, if you want access to this, rooting is the only way.