RAVPower 14,000mAh external battery charger review

The RAVPower 14,000mAh external battery charger certainly looks good on paper and even in pictures: its smooth, ebony varnish lets users know that this is a premium device, its blue LED indicator looks nicer than others I've seen on other power banks, and there are a lot of little things here that demonstrate the manufacturer cares about the finer points.
But is this something you should truly consider for yourself, or perhaps for a tech geek in your house this holiday season? Before I can better answer this, it's best to look at the specifications.
Specs
14,000mAh capacity
Input: DC 5V / 1A
Two outputs: one DC 5V / 1A and one DC 5V / 2A
Dimensions: 4.92 x 3.15 x 0.79 inches
Weight: 9.98 oz
Overcurrent protection delay: 1 second
Short circuit protection delay: 1 second
Working temperature: 0-40 degrees Celsius
Storage temperature: -20-60 degrees Celsius
In addition to the power bank itself and a short user guide, the package also includes a USB to DC cable, and four charge connectors (a mini-USB, a micro-USB, a Nokia DC2.0, and a Samsung 30pin). There is also a free "bonus" flannel bag, and a one year warranty is included.
Basic operation
This external battery charger is charged itself through a micro-USB port on the side. An AC mini-power adapter is included, although any standard micro-USB charger should suffice. It is compatible with international voltages from 100-240V, so this can be used practically anywhere around the world.
The power bank charges other devices through either of its two USB output ports, and four LED lights on the side indicate its own charge. The flannel bag is nice, and everything that comes with this – including all of the connectors – fit in this bag with room to spare.
What I like
Touting a massive 14,000mAh capacity, this power brick seems to find an ideal balance between portability and usability. It's not quite as heavy as other external batteries that I've come across, and its size makes it easy to store in jacket pockets, purses, or laptop bags.
I also like that there are two USB output ports. This means that you can charge two phones on the go at once, or perhaps a phone and tablet. In fact, tablets are precisely what the second output is for, providing 5V/2A, while devices that need less power can be charged on either output.
In my everyday use, I honestly haven't noticed much difference in charging time between this and my wireless chargers for my Nexus 5 phone and 2013 Nexus 7 tablet (I usually use the second output exclusively). Keep in mind that wireless charging takes a bit longer than traditional charging, so this isn't quite as fast as your standard wall outlet – however, it still gets the job done, and it's certainly not slow by any means.
One nice touch is the auto-shutoff feature to conserve power when no longer in use, as well as overcurrent and short circuit protection. Four blue LED lights also provide a visual indication of the battery status.
Another nice touch that I only discovered after owning this power bank for a little while is the built-in LED flashlight, which is turned on by an extended press of the power button for several seconds. While I haven't had to use this yet, I'm sure this will come in handy sometime in the future.
What I don't like
There are two things that I find annoying about this device, and they are both pretty petty. First, the flannel bag is a lint and hair magnet. In a house with three dogs and two cats, this is problematic – and every little thing shows, since the bag is black.
Second, I don't really like the included USB to micro-USB connectors. The cord is coiled (like an old landline phone), and it is not very easily extendable. In fact, the coils are so rigid that I fear it could potentially damage the USB port on my phone or tablet if pulled a bit too much. The solution, of course, is either to use the phone or tablet right next to the power bank, or simply use a different cable. It's not like I don't already have a dozen laying around in a drawer.
It's also worth noting here that it takes a long time to charge this, but that's to be expected – it has a monstrous capacity, after all. The manufacturer also boasts that it can survive 500 charging cycles with little deterioration to the capacity. That might not seem like a lot, but keep in mind that is a year and a half's worth of charges, if you are charging it every single day. I only charge this about every week or so, so it has a potential to last much longer.
Is it worth it?
The RAVPower 14,000mAh power bank was over $100 when it was first released. That was really steep, and I don't know if I would have bought it at that price. Currently, it's only $42.99 at Amazon, available in white or black (the white looks pretty sharp, too!). At that price, it's definitely worth it.
This is enough to get you through a camping weekend, or simply to carry with you for those times your phone needs an extra recharge. At the very least, its larger capacity, ability to charge two devices at once, and built-in LED flashlight are sure to come in handy during my next power outage. This would indeed make a great gift for that special tech geek in your life – or even a nice splurge for yourself.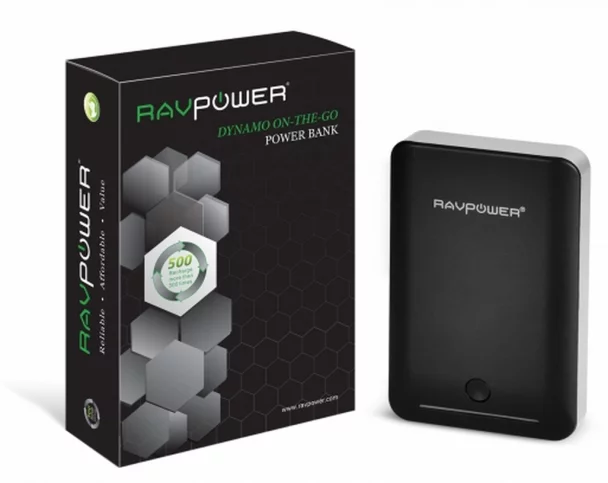 The RAVPower 14,000mAh external battery charger is currently $42.99 at Amazon, available in white or black.