How to restore apps from compressed TWRP Nandroids in Titanium Backup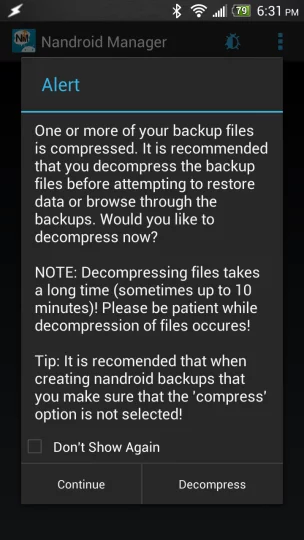 As of publication, the current version of Titanium Backup is 6.1.4.3, although the issue I want to bring up has been around for months – I've noticed it on my HTC EVO 4G LTE running Sense 5.0, but last night was the first time I absolutely had to extract an APK and it's data from a nandroid backup. This is because TB, for some reason, failed to backup modified data for an an app I use and refused to access a compressed nandroid backup to restore the data.
Titanium Backup has an option to restore from TWRP or ClockworkMod nandroid backups, but when selecting to restore from a compressed TWRP nandroid, the app will simply crash as opposed to doing anything useful … at least on my device.
Your options at this point are to create a nandroid of your new ROM, restore the nandroid backup of your last ROM, re-run Titanium Backup so that it correctly backs up the applications and data that you want, restore the nandroid of your first ROM, or do the following, which I did last night.
Download Nandroid Manager. In theory, it allows you to restore apps and data from a compressed TWRP nandroid backup; however, with the ROM I was using, I ended up just getting the app restored and the data appeared to not be being restored. What it did do (which was incredibly useful) was allow me to uncompress the backup that had been previously created.
After Nandroid Manager had uncompressed the data (and the information I needed was missing), I then went into Titanium Backup and was able to access the nandroid to restore the APK and data of the item I needed.
This currently serves as a stopgap restore measure for evident failures in Titanium Backup's dealings with compressed nandroid backups (and when Nandroid Manager can't restore data from an app on custom Sense 5 ROMs). My guess is the TB developer coded the nandroid restore before TB started compressed backups, and then nobody has complained since then, although I don't know enough about Nandroid Manager to comment on its development history.