Seven reasons to upgrade to the Google Nexus 5 by LG from the Nexus 4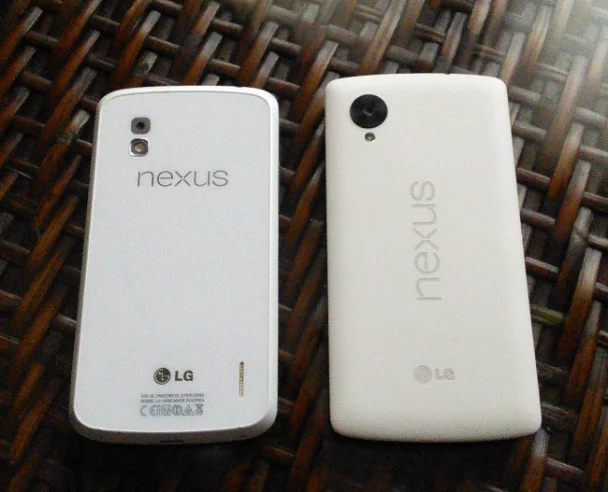 A couple weeks ago, I upgraded both my Nexus 4 and 2012 Nexus 7 – I'm now sporting both the Google Nexus 5 by LG and the 2013 LTE Nexus 7 by ASUS. I've already explained why my Nexus 7 upgrade was worth it, but perhaps some of you are wondering whether or not you should pick up a new Nexus 5 when your current Nexus 4 seems capable enough.
Let me dispel any and all doubt: if you've got the extra cash to spend, the Nexus 5 is worth the upgrade. Here's why.
1. The screen is a big upgrade.
Side by side, you will notice a big difference between the screens on the Nexus 4 and the Nexus 5. First, the specs are just better on paper: the Nexus 4 has a resolution of 768×1280 with a pixel density of 318ppi. The Nexus 5 has a full HD IPS+ screen, with a 1080×1920 resolution and a pixel density of 445ppi.
In person, the difference really is noticeable. Text is sharper and crisper, the screen itself is brighter, and colors are very vivid. While some may argue that the human eye can't really differentiate between 318ppi and 445ppi, I very strongly disagree – and my two phones prove it to me.
2. The radios are actually stronger.
In some areas where I got a 0-1 bars of T-Mobile Edge service on my Nexus 4, or even no service at all, I'm now getting 2-3 bars of HSPA+. I've noticed a stronger and more stable signal on my Nexus 5 practically everywhere I go.
3. The Nexus 5 has true 4G.
Speaking of radios, the Nexus 5 has LTE that's compatible with AT&T, T-Mobile, Sprint, and even some Verizon LTE bands in some markets (although good luck getting Verizon to activate the phone). While HSPA+ has given me consistently good speeds (around 20Mbps down and 5Mbps up), I've gotten 40Mbps down and 20Mbps up on LTE. Coming from the EVO on Sprint, that's simply amazing. After tasting LTE, I can't go back to anything slower – even HSPA+ (faux-G).
4. The camera is better.
While the camera is probably the most controversial aspect of the Nexus 5, it is better than the camera on the Nexus 4. Its pictures are simply of a better quality, and Google is going to roll out a fix very soon that will address most people's biggest complaints about the Nexus 5 camera, including long shutter times and constant refocusing.
5. The Google Experience Launcher is pretty cool.
Granted, you can sideload the Google Experience Launcher on practically any Android device running Jelly Bean and up, it is currently only optimized for the Nexus 5. Other devices experience weird wallpaper problems or issues with battery drain.
The launcher itself is pretty awesome, allowing me to say "OK, Google" to activate a voice search from any homescreen without even having to open Google Now. You can swipe to the left to access Google Now at anytime with virtually no lag or loading time, since it's constantly cached in the background, and the app drawer is transparent. Overall, it's a really nice (albeit simple) launcher, and it's currently only officially available on the Nexus 5.
6. The battery life is better on the Nexus 5.
This is another controversial aspect of the Nexus 5, but I find that the battery lasts much longer than it did on any previous Android device I've owned, like the EVO 4G LTE or the Nexus 4. At the end of the day, with moderate use, I still have about 40% remaining. This is with WiFi and LTE on all day, with about an hour of Bluetooth music streaming. I can usually approach three and a half hours of screen on time, as well, before the battery dies completely.
7. There are more carrier options with the Nexus 5.
Because the Nexus 5 also supports CDMA, there are more carrier options than before, including Sprint and many of Sprint's MVNOs. Choice is always a good thing!