Sprint HTC One getting OTA update to 3.05.651.5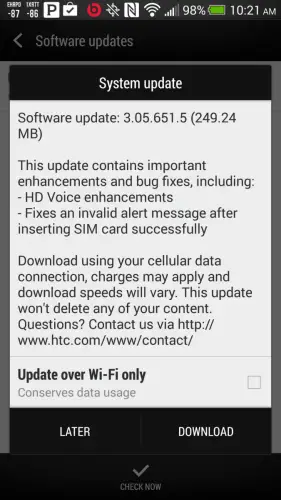 Sprint HTC One owners are getting another OTA update, this time to 3.05.651.5. It's not KitKat (we can expect that early next year), and I'm left wondering just how this update differs from the last one.
The official changelog lists:
HD Voice enhancements
Fixes an invalid alert message after inserting SIM correctly
As you can see, it looks identical to 3.05.651.3.
In any case, coming in at 249.24MB, you'll definitely want to download this over WiFi, unless you've got a really strong Sprint LTE signal where you are. As always, you can expect this update to break root, so if you'd be affected by that, it's best to wait until your favorite ROM developers bake this update into their ROMs.
Additionally, be sure to let us know how this update is working out for you, including whether or not it introduces any new bugs or whether you notice any unannounced changes or enhancements.
[
Android Central
]