Android tip: Don't use IPv6 if you need VPN capability on T-Mobile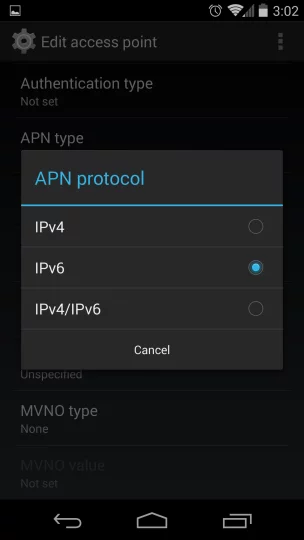 During my recent trip to CES in Las Vegas earlier this month, I discovered something quite interesting – it was impossible for me to use a VPN to gain access to my home network while connected to T-Mobile's HSPA+ and LTE networks. The instant I connected to public WiFi, I was able to use my VPN once again.
This was OK for security while connecting to unfamiliar WiFi networks, since that is one of the reasons I have a home VPN set up. But I also sometimes need access to other parts of my network that I purposely cut off from the rest of the internet.
After trying to figure out what the issue was, I remembered that T-Mobile has started transitioning some of its customers to IPv6 full time, through updates to the APN. I checked mine, and saw that it indeed was set to Ipv6 only. I also remembered an older article that Aaron wrote, detailing some of the problems that IPv6 can introduce. As it turns out, VPN is one of those things that is currently broken on IPv6.
To fix this, simply find your APN settings, and change them to IPv4. On the Google Nexus 5 (and many other Android devices), simply navigate to Settings > More > Mobile networks > Access Point Names. Then select the appropriate one, and change your APN protocol from IPv6 to IPv4. Most likely, you'll lose your data connection for a couple seconds, but when it comes back, you'll once again be able to use VPN services on your device.