Lepow Moonstone 6000mAh Power Bank review
The Lepow Moonstone is the lightest portable cell phone recharger I've ever played with, and comes in an extremely pocketable shell. I picked one up at CES 2014 this year and have been playing with it since getting back.
It's designed for either cell phone charging at 1.2amp, or tablet charging at 2.1, so if you need to juice up an iPad or Android tablet, and you're getting the warning that it's not charging, this little battery can power through where others can't.
The Moonstone comes with a carrying pouch and a charging cable you can use to charge the Moonstone, or turn it around and plug it into one of the charging ports and you can charge your Android device. It doesn't come with Lightning connectors or a Blackberry cable, so you guys will need to bring your own cable.
The USB ports are marked with a lightning bolt for the 1.2amp port, and two lightning bolts for the higher 2.1amp charging port. My assumption is if you get one with three lightning bolts on it, it summons Thor; however, that may just be because I'm feverish today, and watching Marvel shows.
Moonstone pros
Very light
No edges to catch in pocket
Tiny packaging footprint
Higher power conversion quality, so you get more from that 6000mAh than older styles would allow
Price point is pretty good
Nearly three charges for most devices
Can charge while being charged
Charge two devices simultaniously
Moonstone cons
Charging cables are separate, not an all in one
Charges off of USB power, no outlet adapter
Seven hour charge time from dead, potentially longer if on computer USB power
Lepow Moonstone in use
There's not really much to say on this – it's a very good tag-along for two to three charges, and will charge your device as fast as it's capable of charging in most instances. It fits perfectly in the pocket, although the cables you'll need to carry along may or may not, so might be time in invest in a ChargeKey or similar.
You're also not going to be able to recharge it in a reasonable timeframe while you're out in the field, which is one of the reasons I love the MyCharge power banks like the MyCharge Hub 6000. Slap them on a wall and have power for your next meeting. However, they're twice the size, same capacity, and more expensive last I checked.
During charging, the power indicator lights seem to vary between two solid and the third blinking and three solid and the fourth blinking. I'm assuming there's some sort of bug at where I'm at in reading the power level, but it's something to note that you can have it showing 2/3 charged and come back a minute later and it show 1/2.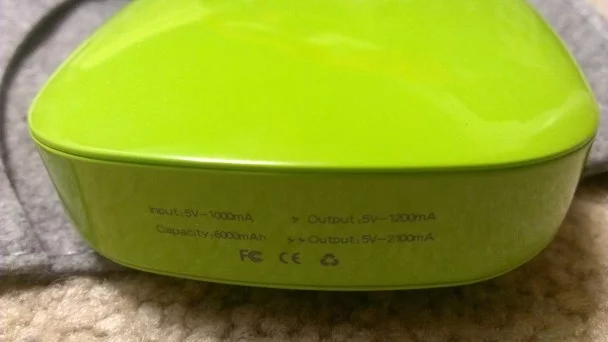 Overall, other than you'll be carrying a cable to charge, it's an amazing product. They even have a sleek little case that is still small enough to pocket that can handle that cable management for you.
One random thing – there's also a scratch-to-verify code that comes on the wrapper to verify that you're actually getting a Lepow Moonstone and not some knockoff. However, if it's some knockoff, chances are they won't have that code, or will direct you to their own website. Seems a bit of a wasted effort here.
The Lepow Moonstone 6000mAh Power Bank is available from Amazon for $34.99