Luci Aura aims to provide light for everyone around the world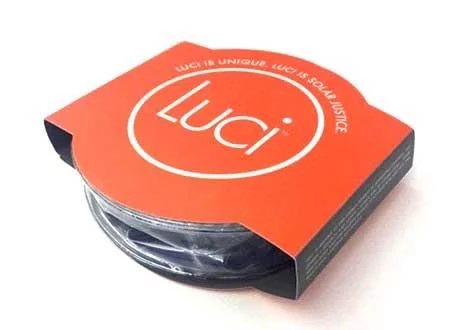 One of the most interesting products I came across at CES this year was Luci Aura, a portable handheld lantern by MPOWERD that is backed by a "solar justice" movement. It's certainly not the most revolutionary product I saw at CES, or the most technologically advanced, but it's the idea behind this product that has me hooked.
Luci is an easy-to-use, micro solar lantern and task light. Powered by only the sun, it contains 10 LED lights that provide 80 lumens of light, capable of lighting a space up to fifteen square feet. Users can choose between red, green, blue, yellow, purple, aqua, and white lights, or a mode that gently pulses from color to color. From a full charge, the lantern can provide 6-12 hours of light. Finally, it can collapse to only 1-inch thick, weighs only four ounces, and is water-proof.
While I plan on using this out on my front porch during the summer when I have company over, MPOWERD has loftier goals for Luci. Aside from the obvious environmental benefits of using solar power for as many things as possible, MPOWERD believes that by empowering energy impoverished people with free, portable light, economic growth can result:
Let's empower humanity with affordable solar light to promote economic growth, positive social impact and sustainability. MPOWERD aspires to eradicate Energy Poverty by providing humanity with affordable, renewable sources of light and power to enrich lives. Solar Justice for All means our products are intended for use by any human being, whether on or off the grid, in our shared need for light. Let's leave behind dirty, expensive fuels and adopt the sun's free energy as a path forward to a healthier, more productive future.

MPOWERD'S vision is to eradicate energy poverty through Solar Justice. Our mission is to make our brilliant clean energy solar products and solutions accessible the world over. Let's empower humanity with affordable solar light to promote economic growth, positive social impact and sustainability.
Luci is also great for emergency situations. According to the company, it can retain 50% of its charge after being inactive for up to two years. It can withstand up to 500 charges and discharges, can charge in direct sunlight and incandescent light, and can charge whether inflated or deflated. All of this provides maximum flexibility, and makes Luci a great tool during power outages, natural disasters, or just as a light source at night for someone who might not have any light otherwise.
Luci Aura can be ordered from the MPOWERD website for $14.99/unit. The manufacturer also has a system set up that allows you to donate Luci to NGOs and non-profits that might need it, to distribute it to those around the world in need.
It was great to see this product on display at CES, especially amidst a flood of iPhone cases and Bluetooth speakers that really serve no other purpose other than to flood the market with more consumables for people who have money. Luci is actually a product that is doing some good in the world, and the design is actually quite innovative. Plus, everyone loves cool colors.