While I only had a limited time at the International Consumer Electronics Showcase, and there was no way to see everything, here are some of the things that intrigued me most. Of course, it's not a complete list due to still sorting through thousands of photos and hundreds of business cards, and several open bars, but here's what I remember.
Fitness monitors
Several companies have come out with new models that not only monitor you but control your every action. OK, not really, but they'll let you know when you need to get up and wander around for a minute so your metabolism doesn't slow down. Evidently sitting still for too long is the new smoking, I'm told. After looking at several different offerings from various companies, we've got some pretty awesome ability to monitor ourselves and gamify exercise, which is what people who get bored during exercise have been in need of for a long time in my opinion.
Fitness monitors are not where I want them to be yet, but I'd imagine in about six months they will be. As a note, they come in watches, headbands, neck bands, arm bands, and under-bra clip on these days, so options are expanding.
Portable charging cases
So, I'm not talking about the several we've reviewed. I'm talking about an almost all-in-one solution like the Prong , which is a protective case and a charger that plugs into a wall. No more bringing a charger and cable. Now, the Prong doesn't have a battery built in as well, and looks like it's only for the iPhone at the moment, but this is a great step toward charging anywhere. As a sidenote, I did find an all-in-one that wasn't a full case but beats me where that is in my stack of press kits at the moment.
While things like the ChargeKey require a computer, or USB adapter, this skips that requirement and plugs right into the wall.
More screen space
One of the big trends this year is more screen space to less body. The Huawei Ascend Mate II is coming out with the most screen to body ratio, and manufacturers are embracing techniques to minimize the body to screen ratio, which means your cell phone can have a bigger display with roughly the same footprint.
No need to get a super phablet just to go one size up.
Green transportation technology
Several car manufactures seem to have gotten the balance this year between performance and conservation. Currently electric cars still mean that coal is being burned elsewhere to produce the electricity, and when your batteries go out you're looking at basically the cost of the cars to replace them. It appears that's being addressed this year. Then again, I'd have expected this to be solved back in the 90's, so who knows.
A Formula-E racing car was also introduced at CES 2014, which I believe was the world's first 150mph+ racing vehicle for a new class of vehicle/race, but due to bad directions to the event I managed to miss some of the speech. Perhaps with the adoption of some of the alternate passive energy collection methods (solar, wind, water), we can actually have a somewhat green vehicle post manufacturing.
Reverse charging
Huawei Ascend is coming out with a thing called reverse charging. Basically, its claim is the battery on its new devices is so good, you can plug in and charge a friend's dying phone. With a claim of two days of battery life for average use and a full day for power users, it does have the juice to spare.
It's also an absurdly funny marketing gimmick if Huawei ever manages to get its brand name in the US. It is currently the #3 smartphone manufacturer in the world, but due to not having a brand in the US, only about 9% of Americans have a clue who they are.
The Brick
 Phone charger/car jumper/flashlight
Keyboard case to turn iPhones into Blackberries

Basically this a case with a keyboard attached that gives tactile feedback, so you can feel what you're typing. I wish they'd had something like this when I first got into Android, but I'm good with Swype-style things now.
3D in the form of a plastic sheet
As opposed to purchasing a 3D device, you can lay a sheet on a tablet and convert it to a 3D tablet. It looked pretty good from what I saw, and doesn't look like it should be limited to the iPad either.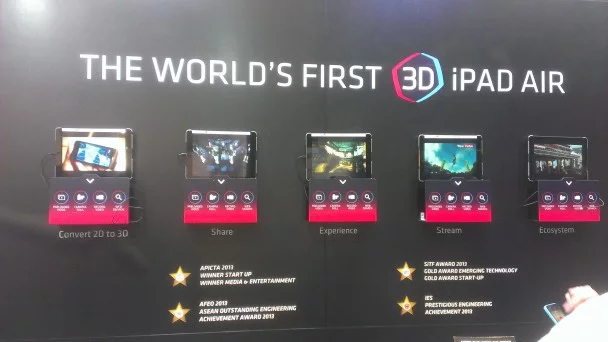 Bitcoin payment stations
You've mined some bitcoins, but now what are you going to do with them? Here's a payment stand.
No more bartering bitcoins for beef sticks – exchange for non-meaty goodness.
5K TVs
Because 4K was so two hours ago.
There was more, so much more.