Accell Powramid Power Center & USB Charging Station review
The Accell Powramid is a six-foot 1080 Joules surge protector with dual 2.1amp USB plugs for tablet and phone charging. It features offset plugs that grant the ability to plug in six standard size brick power adapters if you need to, or it works with any standard plug.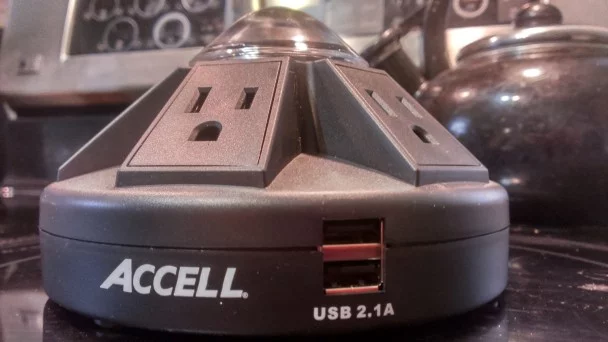 With the Powramid I was able to remove a USB travel charger from my wall I had dedicated to charging my phone and iPad, and somewhat clean up a mess of wiring nightmare behind my TV. I also appreciate the surge protection rating on this thing, as I really value my TV and am far too cheap to want it to be blown up in the next storm.
The Powramid comes in black and white, so not a lot of options there. With a name like Powramid, I'd hoped there would be a sand yellowish color so that you got the theme of the thing more accurately represented, but I guess the people at Accell thought that idea Sphinx.
The upside of this over a standard power strip is that you can probably plug in every device you have without having to overflow onto another outlet or the power switch. The downside is that the footprint is slightly larger than your standard power strip, and the wires tend to either octopus around the charger or end up with a comb-over effect.
For me this was fine, as where it's located is mostly out of sight, but if you've got kiddos you might have wire management standards that require more uniformity of wire directions.
The on/off switch is located on top of the unit, which I immediately considered a bad idea until I noticed it's covered by a piece of plastic that you have to remove in order to press the power button. I'm not entirely sure how I feel about this, as I never turn off the power bar switches in everyday life, but I suspect that plastic cap could be my enemy if I did turn the power off a lot.
The lack of dust cover outlets for somewhat upward facing outlets would leave me a little worried if I didn't have every single outlet in use. For me that's not a problem – an unused outlet is pretty much unheard of when you live in a 1940's era house; dust, however, is not. If your situation is similar you might consider investing in some outlet guards, although honestly I'm pretty sure it gets less dust buildup than an open outlet on a standard power strip facing up, so it's probably not an issue.
Powramid issues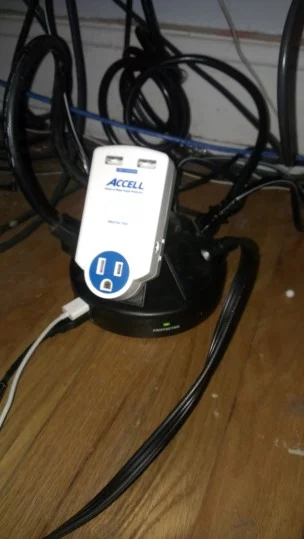 The only disappointment I really came up with on this is that the 2.1amp USB ports are listed as shared 2.1amp, so you wouldn't be able to charge two tablets at the same time on the included USB ports. However, two phones or a tablet are fine, and you should be able to plug in any brick chargers unless you're out of space on the outlet.
If you've heard of frustration-free packaging, you can forget about it with this. You'll need a knife. At least on the packaging I got, this thing was designed to not be easily removed.
Plugs are designed to keep prongs in, and it feels exceptionally hard to insert and remove a plug. I'm pretty sure this is by design as they fit extremely well, but if you're not expecting a fight you might think it's broken.
Overall
I know it's just an extension cable with a couple of USB ports on it for charging, but the whole thing really feels like they had a good idea from start to finish and executed it. It's not a world changing product, but it's a pretty great little improvement over your average power strip. It's a must if you have a lot of brick power adapters plugged in.
I can't comment on the surge protection circuitry, but there are plenty of numbers and places to submit a warranty claim in the event your Powramid failed to function properly. There are also things labeled as Power Stop technology, which reads like a standard surge protector, and X3 MOV technology (Metal Oxide Varistor), which operate to channel surges into the ground plug. Evidently they're wrapped in a fireproof material so in the event of huge surges you shouldn't have a flaming Powramid of death on your hands. Your equipment should also be protected, provided you actually plugged it into a working grounded outlet.
It looks good on paper. I'd love to hit it with a surge when it's not connected to my equipment and see what that entails, but sadly my lab isn't up to producing such an electrical event.
For what I use it for, it's about as good as you can get for a plug other than I'd like that 2.1amp to not be shared, and I'd like four more outlets crammed on there somehow.
The Accell Powramid Power Center & USB Charging Station is available from Amazon for $34.99. If you want it in black, it appears Amazon is currently out of stock of those but you can grab it at Accell's website for the same price.