i-Blason Google Nexus 5 CandyGel Hybrid TPU + Hard Clear Case review [Video]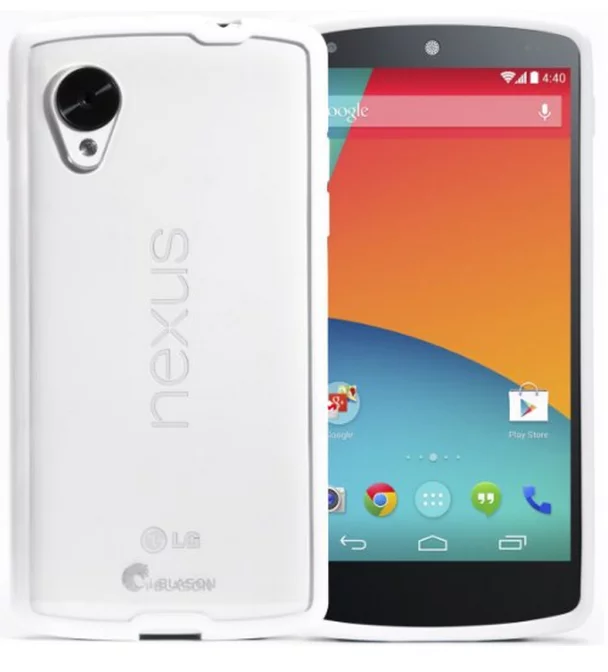 A few weeks ago, in my continuing quest for the perfect case for my Google Nexus 5 by LG, I grabbed a new i-Blason CandyGel Hybrid TPU + Hard Clear Case. To match my white Nexus 5, I picked the "hybrid white" color, although it also comes in hybrid black, hybrid pink, TPU black, TPU clear, and TPU pink. (Hybrid cases have a clear plastic back, which allows the Nexus logo to show through, while pure TPU cases do not – except for the completely clear TPU case, of course.)
I don't think that what I look for in a case is too unreasonable: I want a clear back to show off my Nexus, I don't want a lot of added bulk, I want the buttons to be easily pressed, and I don't want the case to look like complete and utter crap after just a few weeks. In many ways, this i-Blason CandyGel fits the bill – and in some very important ways, it does not.
According to the manufacturer, these are the advantages of the i-Blason CandyGel Hybrid TPU + Hard Clear Case:
Smartly designed hybrid clear hard case with TPU side bumper deign
Ultra slim design with very little weight but provides well-rounded protection
Front raised edges recess your screen to protect it when placed face down
Clear view of Nexus's unique back pattern like a bumper case
Higher Lip for screen protection
Anti-slip properties TPU side bumper gives your Nexus 5 more grip on surfaces
Access to all controls, buttons and camera holes
Design-wise, I like this case. Unlike the original Nexus 5 design, it brings the white color around to the front of the device, making the entire design look more cohesive and complete. It doesn't add too much bulk, and I like the soft touch feel of the TPU side bumpers. It maintains a nice, rounded feel, which I prefer to the sharper corners and edges that some similar Nexus 5 cases have.
All the cutouts are in the right places – for my back camera and flash, the bottom speaker and microphone, the micro USB port, the audio jack on the top, and the top noise-cancelling microphone.
Unfortunately, there are not cutouts for the phone's volume or power buttons, and pushing them becomes a chore. There isn't really a good amount of feedback, and unlike some other cases in this category, pushing the buttons did not seem to become much easier over time.
Another thing that did not become easier over time was removing the case – it's such a tight fit that one time, I almost ripped off my fingernail while trying to take it off. And taking it off regularly is a requirement, since lots of dust and even hair can easily get trapped between the case and the back of the phone, making for a pretty ugly view of the backside of your phone.
Another thing I didn't really like is that this thing scratches so easily. Within several days, a huge permanent scratch graced the back of the case, reflecting off the back of my Nexus 5, making the scratch that much more noticeable. I didn't drop my phone in that time, and I usually keep my phone by itself in my pocket, so I'm really not sure how it got there. In any case, it looks so bad that I simply can't use the case anymore. That's how annoying it is.
Luckily, I only spent $5 on it, as an add-on item through Amazon. Now, I can't find it for less than $10. At $5, it's worth the gamble, but at $10, I'd probably got with one of the competing cases on Amazon that is the same price. Trust me, you can find better for $10.
Granted, at least while the case remained scratch free, I thought it looked decent, even if it was too difficult to press the power and volume buttons, or to take the case off the phone. With the scratches it's got now, I think this will just start to collect dust in a drawer somewhere.
Be sure to check out my video walk through below.
The i-Blason Google Nexus 5 CandyGel Hybrid TPU + Hard Clear Case is available from Amazon for $9.99.