Lepow Modre Bluetooth speaker review [Video]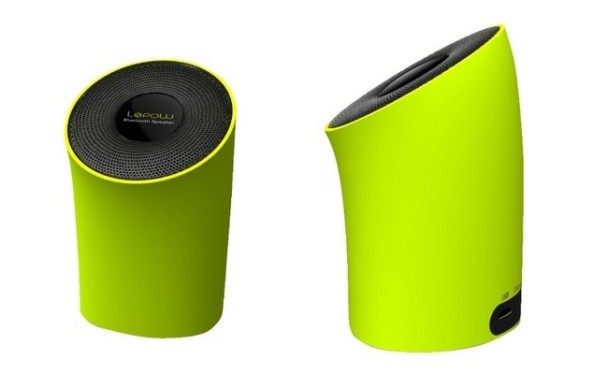 The Lepow Modre Bluetooth speaker is a small but powerful little accessory that can easily fit in most pockets, and is modeled after the trunk of an elephant to provide "crisp, rich sound that resonates from the smooth rubber-molded speaker." It's compatible with traditional aux cables, in case your particular device doesn't have Bluetooth (or you just don't want to use Bluetooth), and it comes in three color options: electric blue, rockin' green, and funky orange (although the last one is more of a dark yellow to me).
It also boasts hands free calling with a built-in microphone, 360-degree sound, compatibility with all major Android and iOS devices, and a seven hour battery life. But is it really all it's cracked up to be?
Specs
Coming in at 3.5 inches tall (8.9 centimeters) with a diameter of 2.3 inches (5.8 centimeters), the Lepow Modre Bluetooth speaker weighs only 6.35 ounces (0.18kg). That's a pretty small package, especially when you consider the quality of sound it delivers.
It's Bluetooth 3.0 compatible (A2DP), has a transmission distance of about 10 meters (just under 38 feet), a playtime of seven hours, an output power of 3W, and a built-in non-removable 500mA/3.7V lithium battery.
A quick side note about the packaging: it comes in what almost looks like a to-go cup – heck, it is a silicone to-go cup that you can actually reuse! It's a very creative design, and I like it a lot.
Performance
Sound-wise, this is a pretty powerful speaker for its size. When streaming Google Play Music All Access through my Nexus 5, I can turn the volume all the way up and this doesn't even crack or pop, or distort the music. Sure, it's not the same experience as a professional sound system, but to my untrained ears, it sounds great. I wouldn't hesitate to use this outdoors during a party, or even inside while having people over for dinner.
The bass is also pretty powerful – so much so that if you're not careful, the little speaker is liable to jump right off the table! (See the video below.)
In my testing, the range seems accurate, as well. My house is only 900 square feet, so I can't really get too far away from this when I'm using it inside, but I can use this from several rooms away without any skip. Compared to the plethora of other Bluetooth devices I currently own, I'd say that the range on this is better than average.
Build quality and design
After researching this product a bit more, I discovered that it is actually constructed out of stainless steel, not plastic. The rubber coating around it gives it a very nice feel not unlike the back of my 2013 Nexus 7, and the non-slip ring around the bottom minimizes its risk of slipping and falling somewhere – although the bass can still make it jump around. The solid construction gives it a nice feeling in hand and the rubber reduces the chance of it slipping.
I appreciate the two LED lights on the back to indicate charging or Bluetooth connectivity. When charging, this first LED will be red, and when fully charged, it turns green. When the speakers are in pairing mode, the Bluetooth LED will quickly flash blue, and then connected, it only flashes occasionally to indicate that it is active. The Bluetooth LED also changes to red to indicate that an auxiliary cable is connected.
My one complaint is that the on/off switch is located on the bottom of the device, where it's easy to forget about. I did that one day, causing my battery to drain over the course of a couple days. Early one morning, I was awoken by a beeping sound every thirty seconds or so, and I couldn't find it for about 15 minutes. I finally realized it was the Lepow Modre speaker, letting me know that it was about to die, desperately calling out for some extra juice. Sure, that was really due to my own carelessness, but I wish that it was located in a place where I'd see it more often.
Overall impressions
I'm really impressed with this little device, and give it two thumbs up. It's reasonably priced, packs quite a punch, is very portable, and seems to have a high build quality. It also seems to have been designed with great attention to detail. For a video walk through, check out the YouTube video below.
The Lepow Modre Bluetooth speaker is available for $34.99 from Amazon.