Patriot FUEL+ 6000mAh Dual-Port Rechargeable Power Bank review
I've been a fan of Patriot Memory's products since I accidentally washed and dried a Patriot 64GB USB stick seven times over the course of two years, so when I ran into the company at the International Consumer Electronics Showcase in January I was not opposed to playing with the new Patriot FUEL+ line of chargers.
Patriot FUEL+ overview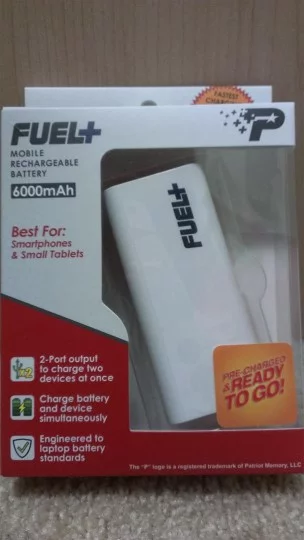 The Patriot FUEL+ I'm reviewing is a 6000mAh portable charger that has the ability to charge two devices at once. It has a one amp USB charging port, and a 2.5 amp port for tablets. It can charge both devices at the same time, pushing out about 3.5amps of power according to the documentation.
The device charges off of a micro USB input and can charge off a computer at .5amp, or a wall charger at whatever it's capable of providing, up to 2.5amps. Your charge time will depend on what you plug into it.
The Patriot FUEL+ also can charge while being charged. So if you want to plug your wall adapter into the FUEL+ and your phone into the FUEL+ you'll pass it on through – useful for if you want an always charged recharger ready to go, not useful if you're on a low amp wall charger and want to charge both the FUEL+ and your phone.
FUEL+ in hand
The very first thing I noticed was the packaging stating that the unit was pre-charged and ready to go. Unfortunately, this wasn't the case on mine. It had a slight charge that got me about 3% battery increase before the thing ultimately died.
I wouldn't normally consider this a problem, as I'm not going to be purchasing one of these for emergency power from a store; however, if it's labeled that it's pre-charged and ready to go, it would probably be good if it were.
The next thing you'll notice from the packaging is that the FUEL+ is engineered to laptop battery standards. I'm not sure about the rest of the world, but for me that means a battery that doesn't hold much of a charge and goes out extremely quickly. Let's hope those aren't the standards they're engineered toward. (I'm just poking fun at them now however.)
So, box text aside, here's what we've got:
The FUEL+ takes longer to charge than other chargers I've played with. I've gotten pretty used to a dead 6000mA battery taking about seven hours to charge on a one amp wall charger, and my unit took probably eight hours before it appeared full. You can cut that time significantly with higher amperage chargers; however, that's what I use to test.
I mention this because, besides taking longer to fill, it also appeared to produce more juice. I'm used to a 6000mAh being able to charge my HTC EVO 4G LTE's 2000mA battery about two and one third times before giving up the ghost, but at two charges the charger still indicated it was about half full.
Generally when you look at charger sizes and your battery size you need to do a 20% knock off for power conversion. 6000mA should net you 4800mA when all's said and done (converting stored power to juice for your phone, your phone converting the juice to stored battery.) Assuming the indicators are correct on the unit, it seems that there's either a lower conversion loss, or a higher battery capacity.
Laptop battery standards?
So I did a bit of research (I looked at the Patriot website) and according to the material, that means that the unit will function as well day in and day out for the warrantied life of the product.
I don't have two years to do this review, which is the warranty, but that's the claim. Should the unit stop performing well within two years, it's covered.
Pass through charging
One of the things about the FUEL+ I really like is the pass through charging. You can plug the FUEL+ in, and plug another device in to it, go to bed and when you wake the device is fully charged and probably the FUEL+ is too.
That won't be the case if you're attempting to charge a large tablet and only have a small mA charger, however. You'll just end up with a dead battery and a hungry tablet.
One of the things pass through charging is extremely useful for is in the car. I have a charger inlined from my plug-in car charger at all times. That way if I'm out and about and realize my phone is about to die, I just go to the car and pop the charger out of of the car. It's always charged and I don't have to think about it, except when it's 105 degrees out.
Modern portable recharger batteries don't pull juice when they're full, so the only thing you should have to worry about the battery is overheating or freezing due to weather, and not trickle-charging the battery to death.
Freaking power button
This is one thing I absolutely hate on newer chargers and this one in particular – the power button. I have a slew of chargers from last year that just knew when you plugged a device in, that they want power. All the chargers I've seen this year seem to need that button pressed.
I'm not sure how we moved out of plug-and-power to plug-and-press-power, but that's really the biggest complaint I have about how this charger works.
Improvements to make it perfect charger
Since I'm a nit-picker, here are the nits:
I'd love to see this have fold-out wall power plugs so that it could charge in any conceivable fashion, but that would probably increase the footprint.

Smart power that doesn't require the power button being pressed.

Dual 2.5 amp ports / total of 5amp output.
Ability to jump start a car.
Slightly reduced profile.
Wrap up
It's very light, and only slightly thicker than it appears to need to be. It doesn't have a high amperage charger with it, so you'll have to use your phone or tablet charger to recharge it. Keep in mind, most phone chargers are 1amp or lower, so charge times will be a bit if you're going with what came with your phone.
It's a charger I'd recommend from a company that's so far engineered at least one other of my favorite products. The price point is actually pretty decent for a name brand charger, and it has the only two year warranty I've seen in a charger to date.
The Patriot FUEL+ 6000 mAh dual-port Rechargeable Power Bank is available from Amazon for $42.98, however as of this writing the 7800 mA seems to be the best dollar per mA deal.