Samsung Galaxy S5 officially unveiled
Samsung had a pretty big product announcement earlier at Mobile World Congress, where it released the official details of the upcoming Samsung Galaxy S5. And while it's it's not the exponential leap we'd hoped for back at CES 2014, it's still got some very good things going for it. It's an improvement over the Galaxy S4, but probably not a game changer to most, or reason to throw out your S4.
Galaxy S5 release date
Sometime in April on AT&T and Sprint, with no price announced yet.
Screen changes
The display is slightly larger, but the resolution is the same as the S4 coming in at 1920×1080. It is slightly larger in area, coming in at 5.25 inches, but not enough to need more pixels over the S4's 4.99 inches.
The larger screen increases the footprint of the S5 over the s4 slightly from 136.6×69.8×7.9mm to 142×72.5×8.1mm, or not that much unless the S4 was at the top end of what you could hold.
There's also some new technology that calibrates the AMOLED screen to compensate for ambient lighting conditions. That should mean the screen looks as good out in a parking lot in the sun as it does in fluorescent lighting.
Updated CAT4 LTE
Up to 150mb if you can get a carrier that will provide it. Simultaneous LTE/WiFi download via link aggregation.
Camera
16MP main camera, selective focus software, major software improvements, 2 or 2.1MP front facing camera. No word on if the dual-camera recording software from the S4 works, but I would assume so.
Rugged
The S5 boasts an IP67 rating, which should mean it's both dust and water resistant. It should take a little of the worry out of a spill as long as the battery compartment is included in that rating. According to this, it should be able to be submerged in three feet of water for 30 minutes.
Fingerprint scanner
As Apple did recently, so goes Samsung. A fingerprint scanner allows personal unlocking with a backup code based unlock if something happens to your hands or enrolled fingers. Should also allow for Wallet/Paypal style payment verification.
Bigger battery
2800mA over previous 2600mA in the S4. Unfortunately there' s no way to tell if that will mean the phone lasts any longer under heavy use, or if they just stuck a larger battery in because they could.
Rumors of fast charging seem to have not been proven true.
New battery management software should allow you more control of what's sipping juice, but you never know until you play with these on network whether that will help any or not.
Health monitor
Samsung's including a heart rate monitor built in. This is a bit confusing to me, as this is not technology that requires  a separate device, and we've had the ability in most Android phones to get heart rate simply by looking at your face with the front facing camera, or putting your finger over the camera.
Perhaps I'm missing something, but this seems to just be some software not needing any hardware component, and we've been able to do that for four years now. Maybe it's part of the fingerprint scanner. I don't have details on that.
Body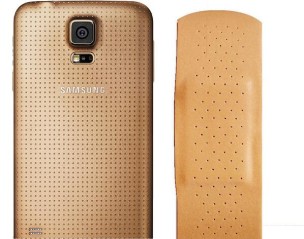 The body is significantly tougher than the S4 was, but it's still plastic. The back is textured plastic, and it's been noted that in gold or brown it looks a little bit like a Band-Aid.
To me it reminds me of the seats of a 1987 Plymouth Horizon, but I don't expect that car resonates with many people.
Overall
On paper the device looks like it's a worthy successor to the Galaxy S title. I'll be interested to play with one of these when they're available to the public, but I'm not seeing anything here that would make me shred my phone, drop my baby, and march to grab one just yet.
I'm also reading a little bit of contradictory information on the processor, so we'll see what that is when the rush to report finishes and Samsung updates its website.
HTC of course wasted no time in responding to Samsung's announcement:
#HTCOneUp pic.twitter.com/Nh8q9WPAXp

— HTC (@htc) February 24, 2014
It will be interesting to see what the HTC campaign against Samsung will bring this time, as the last time involved a lot of Twitter name calling and classy mockery.
[
Bloomberg
 |
ZDnet
 |
The Verge
 |
ExtremeTech
 |
DigitalTrends
]