SD Frameless Case for 2013 Nexus 7 review [Video]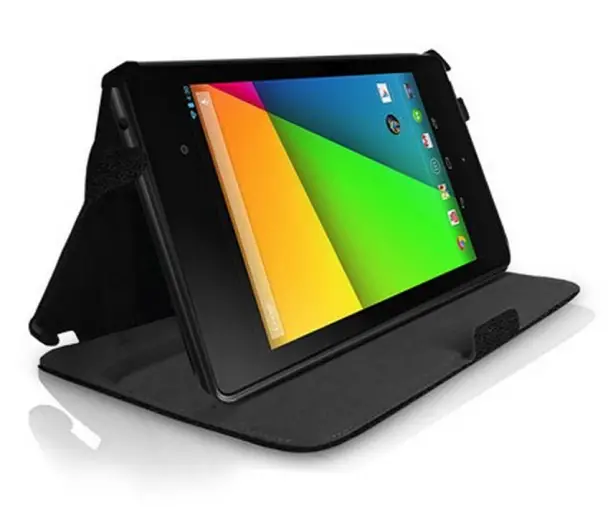 Google has (rightly) been criticized in the past about providing few if any official accessories for its Nexus lineup. This is especially true with the Nexus 10 by Samsung, but the Mountain View giant has gotten better with the new 2013 Nexus 7 and the Nexus 5. However, I'm still disappointed in Google's official Nexus 7 case – despite all the praise it gets for its excellent build quality and design, it's missing a fundamental feature; namely, there's no magnet that takes advantage of the tablet's built-in ability to automatically wake up when the cover is opened, with no button press required.
Sigh.
So my search for a decent Nexus 7 case continued, until my friends at GearZap sent me the SD Frameless Case for the new Nexus 7. (GearZap also has a surprisingly large number of other Nexus 7 cases that potential buyers can select, too.) After using it for a few weeks, I think I can finally say that I found a keeper.
So far, I've had really good luck with this particular case: it's cheaper than Google's, it has the magnetic wake feature, and there's even a little place to hold your stylus. In other words, it gets the job done.
Granted, I can tell that the leather is fake, but it still feels good in the hands. The stitching has so far held up despite the amount of heavy use it has gotten, and I think that the build quality is high enough that it will last for the life of my tablet. (And, unlike my phone, I tend to not baby my tablets – I throw them carelessly in bags, leave them in hot or chilly cars, and am generally a lot harder on them than my phone.)
This should also go without saying, but I also have to say that it fits my 2013 Nexus 7 perfectly. It's not too loose, and it's not to tight; it's just snug enough where my Nexus 7 feels incredibly secure while in the case, but not so tight where it's difficult to remove the case when I want to.
Unfortunately, you can never be sure with some third party cases, but I'm pleased to report that this case doesn't block any buttons or ports on my tablet, but it still seems to provide adequate protection. So, in other words, my use of the tablet isn't hindered in any way.
This is important to me, because I hate cases that get in the way. I also hate cases that are hard to remove, since I regularly go back and forth between using my tablet with a case and using it naked.
As an added bonus, the case allows me to prop the new Nexus 7 up at two different viewing angles to watch movies or play games. I don't do it that often, but I like having that option. There's also a nice handstrap that you can use when folding the cover back completely.
So, let's recap.
Pros:
Less expensive than Google's version.
Unhindered access to all ports, and a perfect cutout for the camera on the back.
Easy to take on and off.
Provides adequate protection.
Seems like it will last for the life of my tablet.
There are some nice added touches, like the stylus holder and the handstrap.
Cons:
I can't really think of any, except that maybe you can find something comparable on Amazon for a little bit cheaper. The negative of going this route is that you never really know what you're going to get (I've gotten lots of cheap but bad cases on Amazon before). I've also worked with GearZap and its parent company, Mobile Fun, for quite a while now, and the customer service that both places provide has been excellent. That's worth it – at least to me.
The SD Frameless Case is sold by GearZap for £16.99, or about $28.