EnjoyGadgets 5-Port Remote HDMI Switch review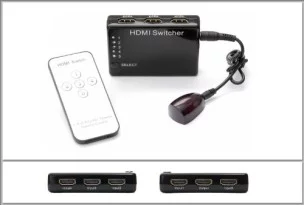 The EnjoyGadgets 5-Port Remote HDMI Switch is an inexpensive way to multiply the HDMI ports on your TV and provide inputs for all the devices you may have laying about that you use on a regular basis.
If you're like me and have a TV that's hard to move with one HDMI input stuck in the most inconvenient place, combined with five devices you regularly use that use HDMI, this thing is a gift from above. With an XBOX 360, Cable/DVR, HTC EVO 4G using a HDMI cable, laptop, and Chromecast I was finding myself just not using  the things I wanted to use because it was too much hassle to continually pull the TV out to jam something in.
I didn't have much hope for the EnjoyGadgets 5-Port Remote HDMI Switch, but it was $14 and running a four-star ranking on Amazon after 35 reviews, so I decided to give it a try. It works, the remote works at 12 feet away which is where I use it, and it can be mounted pretty much anywhere with the IR receiver being on a wire that can peek out from your tangled wire mess.
It looks absurdly cheap however, and the remote's main sticker was peeling before I even got the device opened, but it really doesn't impact the functionality.
Supposedly with the addition of a 5v power supply you can make the thing cycle through inputs from five down to one, repeating until it finds a live input, but that did not seem to be anything that needed to happen in my setup.
It also seems to be the case that if I'm on input four and turn four's device off it switches, but I may be wrong on that.
Channels can be switched via remote control, button on the top of the switch, or automatically if you get the power supply they mention in the documentation. The power supply only seems to be required if you want to do auto switching as I have about the world's oldest TV with HDMI and it works fine without it.
Everything you need to switch from your existing devices other than one more HDMI cable and an assistant to move your old TV should be included.
The EnjoyGadgets 5-Port Remote HDMI Switch is available from Amazon for $13.99, but if you only need three inputs you can save four bucks.