Orpheus Music Player review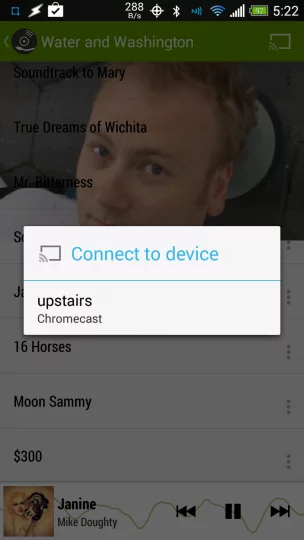 Orpheus Music Player is an audio media player for Android based on the legendary Apollo Music Player that goes the extra mile and can push your music over to your Chromecast.
While I'm not exactly sure how useful that is, it is a nice feature to have after going out for a run – being able to walk through the door and move your music to play on your sound system from the same point you left off.
Album art and artist pictures can be pulled off the internet for anything you've got laying on the Android device that may not have proper images associated with it. It did very well doing this but did pop up one odd album artwork claiming it was unknown with a message about when to use unknown album art and some message that's hidden behind some song titles.
A built in visualizer gives you an idea of what you should be hearing as long as you're playing locally and not casting. It's not particularly useful, but it looks pretty neat. Unfortunately, I was never able to capture a particularly good sound waveform image, but it looks about you would expect a sound graph to look like.
Orpheus Music player has five color options to choose from to theme it to your phone or personality, drag/sort with swipe to reorder and remove items in a playlist, gapless playback, lockscreen notifications and controls to access your music, and album art pushed to the Chromecast while casting.
I found this application to be a slightly better looking local media player than anything I've played with before, with the big wow being it looks nice and can push your music to Chromecast and then pop it right back to the playback device at any point you want. No having to restart a song halfway through.
The only issue with transitioning is there'll always be a slight gap in going from the device to the Chromecast, a delay of about a second and a half to get it up and running which is just the nature of the Chromecast. When transitioning back from the Chromecast Orpheus slaps it on pause, so you do have an interruption in music on the release I'm using.
It's a very well constructed start of an application at version 0.1.1 and I'm to understand there will be a lot more features coming to the application shortly. It would be nice to see a full screen visualizer, options to display lyrics, connection to Google Play Music as it only supports local content, and a few other premium music player features. For an application just out of the gate however it does what it says it will and does it well.
Orpheus Music Player is currently available for $0.99 from Google Play.
Download: Google Play