Samsung's new Chromebook lineup unveiled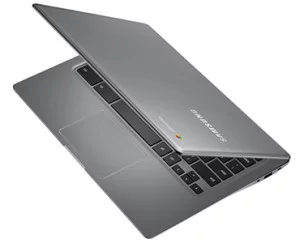 Samsung is completely revamping its Chromebook lineup with two new models that will be released in April 2014. Like its previous ARM-based Chromebook released back in 2012, there will be an 11.6-inch model, but Samsung is including a larger 13.3-inch full HD Chromebook this time, as well.
Both Chromebooks will come with the Exynos 5 Octa processor, which is an 8-core ARM processor that is also being used in the upcoming Samsung Galaxy S5 smartphone. The 11.6-inch model will be clocked at 1.9GHz, while the 13.3-inch model is a slightly-faster 2.1GHz. Both models include 4GB of RAM, breaking the 2GB mold that so many other Chromebooks have fallen into.
Both include a 720p webcam, 8 or more hours of battery life, a 16GB SSD, a microSD card slot, two USB ports (2.0 and 3.0), audio ports, and an HDMI port.
Interestingly, these Chromebooks will also come preinstalled with a few apps, which Samsung says is worth $100: Wunderlist, Airdroid Premium, and LittleBridge.com. I'm not sure if we should call this bloatware or not, but it is a little disconcerting. Hoepfully, users will be able to uninstall these apps easily after booting up for the first tiem.
Also interesting is the stitched-effect faux-leather on the back of the laptop, which is the same used on the back of the Samsung Galaxy Note 3. Since I haven't seen this in person yet, I'm not sure how I feel about it, but it has the potential to be really cool.
Full specs, including pricing, appears below. More details can also be found in Samsung's official press release (see the source link below).
[
Samsung
]