Google is now selling the Nest thermostat in the Play Store for $249.99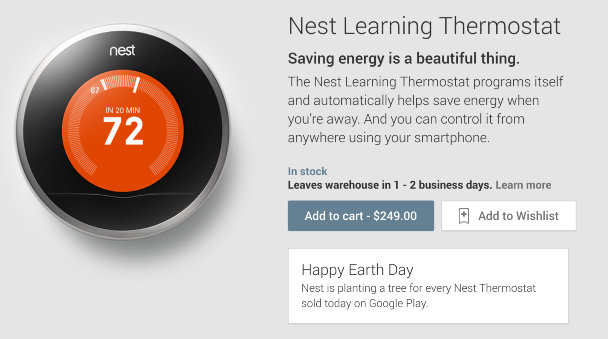 Several months after its successful acquisition of Nest, Google has finally started selling the Nest smart thermostat on the Google Play Store. The device sells for $249 and ships in 1-2 business days, and apparently for today only Google is also planting a tree for each Nest thermostat that is sold.
In case you've been living under a rock, the Nest thermostat is a smart thermostat that is supposed to automatically learn your heating and cooling habits and increase your energy efficiency in an little as one week after installation. It creates a personalized schedule after you make a few adjustments, can sense when you're away from home and adjust the temperature accordingly, and includes remote control access through iOS and Android apps. In other words, it tries to totally automate the process of heating and cooling your home, so it's kind of like Google Now in your thermostat.
Google says that four out of five customers can install it themselves in 30 minutes or less, so that shouldn't be too much of an issue. It uses less than 60MB/month in data (mainly for software updates), and consumes less than .03kWh of power per month.
Anyone here planning to jump on the Nest bandwagon?
[
Google Play
]