HTC One M8 impressions two weeks in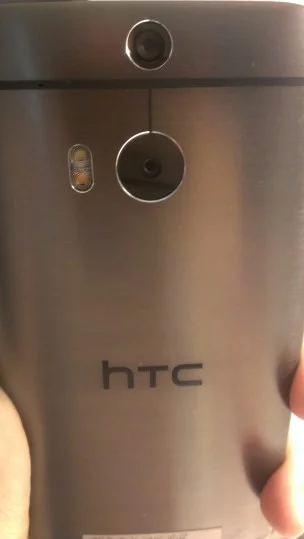 I got my HTC One M8 on the second or third of April, and since then have rooted, S-OFFed, SIM unlocked, updated firmware, and flashed a custom stock rooted ROM. I've done plenty of other things with the phone, and at two weeks in I have this to report.
Camera
It always rains when I want to do an outdoor camera comparison, although the One M8's camera is beautiful. The depth-of-field capturing has been useful for a tilt-shift effect, but that's about it for me so far. I dig the premise, but the actual usefulness thusfar is so so.
Lack of megapixels seems to disturb many, but I find on zooming in on the One M8's photos, I get pixels that are the right color. I notice a lot of image static on my other devices. Your mileage may vary.
The camera is fine unless you need to zoom in to the hair on someone's face.
Dual Capture I feel like I'm missing something. Sometimes the small box is the front facing camera, sometimes it's the main, I don't see how to switch, other than if your last photo was a selfie, the large portion is going to be the FFC, and if your last photo was a photo the large portion of the display will be the main camera. If someone sees where there's a setting, let me know. Update: I was missing something – swipe down from the top to switch cameras.
Stickers is broken on mine, so I have no idea what that does or if I was behind breaking it.
Speed
You're not going to complain about it in context of any other device available now. The device can even be clocked to a higher speed with a custom kernel, so those who were sad that the clock speeds were slower in some versions will find out they have the same capabilities if they root.
The Samsung Galaxy S5 is 1-3% faster on AnTuTu. Samsung's presentation is just not my bag of tea, though.
Software
You'll like it or you'll hate it. Blinkfeed now supports RSS. Sense 6.0 is pretty cool if you're into manufacturer launchers.
Camera software seems borked on "stickers" on mine, so I'm not sure what that is or if it's a carrier specific borking or not.
I despise being forced to listen to a boot-up sound that's that loud.
Build
The phone looks and feels nice. The notable lack of a kickstand on a device that could really make use of it pains me. Body is sleek, but slips out of my hands far too easily so I did the absurd and slapped it in a case.
Built-in speakers
Good, I'm still looking for a comparison for devices that are as loud as the One M8. With the M8 I can set up a white noise app and it sounds really nice / knocks me right out. I was never able to do that without the aid of external speakers before.
Root
Pros:
Very easy to root, all in one toolkits available
Most HTC One M8 variants don't require HTCDev unlocking to root, S-OFF
S-OFF achieved in 10 days
SIM unlockable
Coming from the EVO line, you shouldn't have any trouble as the root players are the same
Cons:
I've read kernel source doesn't compile for a couple of the released carriers
Sprint rooting will require HTCDev unlocking
CDMA development going relatively slowly compared to GSM
Recoveries having to be maintained by carrier (at least Sprint's are)
Sense ROMs are gigantic clocking in at 1.4 gigs
Unlocking removes ability to redeem 50GB Google Drive storage
ROMs flash significantly slower than I'm used to due to size
Wrap-up
This is at two weeks of solid use with a root learning curve and attempting to use it in real life. I've run into the Sprint Tri-Band no data thing, I hope we get that fixed quickly, but it really wouldn't hurt me one way or another as I consider Sprint a no-data network in my part of town anyway.