Un-carrier day 2 offers big discounts on LTE tablets and more free data through 2014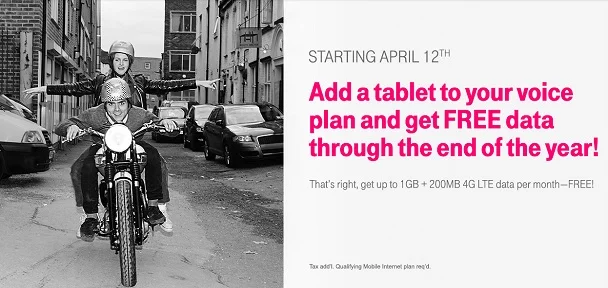 T-Mobile is right in the midst of three days of Un-carrier announcements, and today's announcement is all about tablets. Beginning on Saturday, April 12, T-Mobile will offer its entire lineup of LTE-enabled tablets at their WiFi-only prices –  a savings of up to $130. Additionally, all tablets are eligible for zero down, 0% financing over the course of two years.
As if that wasn't enough, T-Mobile is reducing the price of all it's tablet data plans by $10 through 2014. Combined with a $10 discount that existing voice customers receive on tablet lines, this means that current postpaid customers can get this pricing:
$0 for 1GB
$10 for 3GB
$20 for 5 GB
$30 for 7GB
$40 for 9GB
$50 for 11GB
$60 for 13GB
This is in addition to the 200MB that everyone can get for free each month for the life of the device.
These prices are actually pretty amazing, but keep in mind that the tablet sale is only for a limited time (there's no clue as to how long), and the discounted data prices are only available through the end of this year. That means in 2015 prices will go up $10.
The third Un-carrier announcement is expected tomorrow. Is this enough to encourage any of you to get a tablet on T-Mobile?
[
T-Mobile
]