What's up with the HTC EVO 4G LTE Android 4.3 update part 2
So last week we covered a little bit about what was going on with the HTC EVO 4G LTE Android 4.3 update and how HTC has been being very weird about it.
One of our readers wrote in telling us that an HTC rep had called and said he (the reader) could not take possession of the update, but that if he allowed the technician access to his computer via a remote desktop application that he would install the RUU on his phone. This seemed a bit off both to the reader and me, so I decided to go into the trenches of contacting HTC customer support and asking myself.
On Monday (four days after I started this), I got an email from HTC asking me to rate the service I'd received thus far and asking if my problem had been resolved. I had not heard anything back from HTC at this point so I stated that the issue was not resolved and commented that they could just send me the link because I'm a computer technician and know how to connect and use a phone. I didn't expect much from saying that in a comment, though.
I got back a receipt from HTC that had a tracking number for my message. The next day, which was April Fool's/April 1. I got two messages from HTC, one with that number listed in the subject and another that was the same message but did not have a reference number.
Both started with the lines "Dear Paul King, This email is a follow up from our call today." (In both cases I had not received a call.) I stopped there for a second to check my Google Voice missed calls, and unless HTC was offering me a $100 Walmart Gift card or asking about a cruise, these were the only two calls that I had missed/went directly to voicemail spam, and no other numbers had called.
Both emails were the same; they went through some of the issues you'll encounter, and a download link to the RUU that I'm not going to share. I can tell you, it's the exact same thing listed on that magnet link from a couple of weeks back, but I'm not feeling like having HTC yank a link because of me.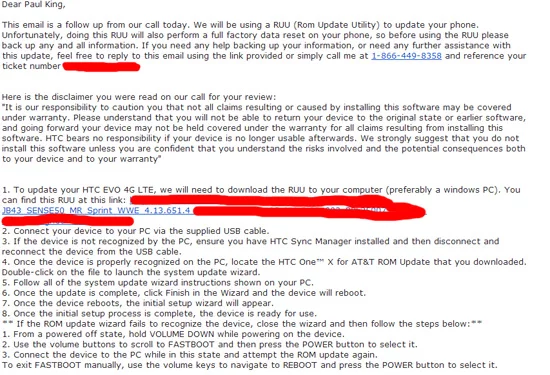 Both emails contained the glaring error that I'd be working with an AT&T HTC One X ROM update utility, meanwhile the filename had Sprint listed (it's the Sprint EVO 4G LTE update and says so in the filename). Both emails backed up that your warranty is void if you use this.
There's still no word on when the official update is coming, there are still issues galore with the trial update, and it's still significantly slower than previous versions of the stock ROM appeared to be, although I think people are seeing what a freshly wiped phone feels like and thinking it's faster.
So there's that. If you want to go the official HTC route, you can and you'll get told you'll be contacted in 7-10 business days. While I did not experience the person calling and saying I couldn't take possession of the ROM, I don't doubt it, as HTC doesn't seem to know what they're doing with this update.
It should be noted that this is probably the first time that HTC has released an update for the EVO line directly to the end customers (you), as opposed to HTC's customer (Sprint), so the bumbling clusterchicken that is this rollout might be to be expected. Perhaps this is why Sprint never could get an update out on time. Who knows?