Gold HTC One M8 available for $99 today only from HTC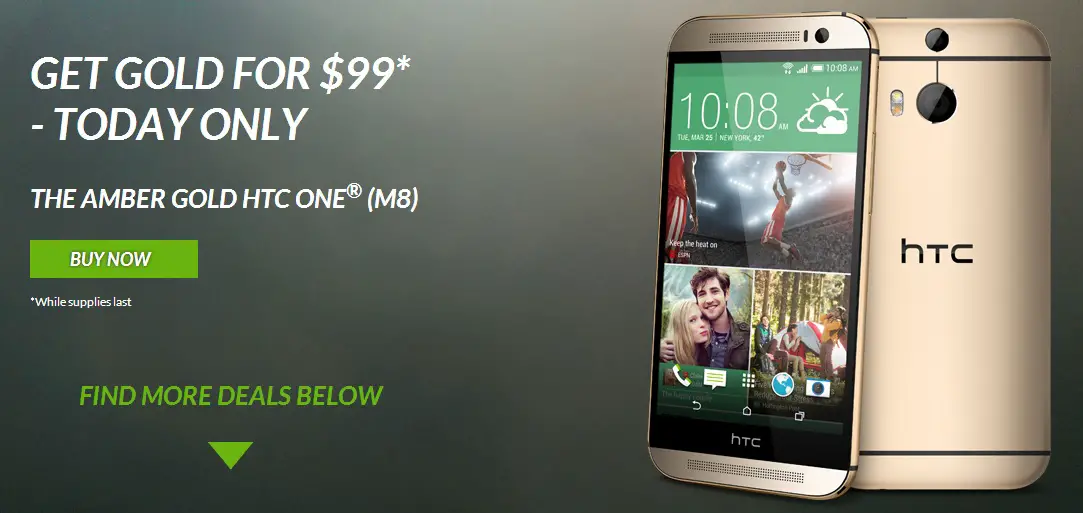 If you follow @HTCUSA on Twitter, you might have caught the offer a few minutes ago to get a new gold HTC One M8 for only $99 while supplies last:
Go for gold TODAY ONLY! Get the stunning Amber Gold #HTCOneM8 for $99 while supplies last: http://t.co/szeF4uewDc pic.twitter.com/uNYkekYIw9

— HTC USA (@HTCUSA) May 30, 2014
— HTC USA (@HTCUSA)
May 30, 2014
It should be noted that the deal only applies to gold HTC One M8s purchased with a contract from HTC's site, and that without a contract you're going to be plunking down about $800 USD to get one of these golden devices.
It should also be noted that today is the 30th day of May, 2014, and the link takes you to a page currently titled HTC June Deals, so there's a good chance that particular deal may extend at least into the month that it's titled.
If you're on the fence about whether or not to get a gold HTC One M8, just remember that gold is best. Also keep in mind that the current flagship title of the HTC One M8 may be being passed to a new version of it sometime in the next few months, so waiting a bit could pay off if there's an HTC One M8 Super+ Prime coming out any time soon. Waiting could also net you one of these for nothing.
When you scroll down the page you can also find a $0 down grey HTC One M8 with a contract on T-Mobile, so keep in mind that you're paying $99 for a color choice.
The gold HTC One M8 appears to only be being sold on Verizon, Sprint, and AT&T, so if you see someone with a gold One M8 you can assume they probably hate their carrier.
If you do go ahead and grab one, welcome to the M8 world — I'm pretty sure you'll enjoy it.