HTC EVO 4G LTE updated to 3.17.651.5, still no sign of Android 4.3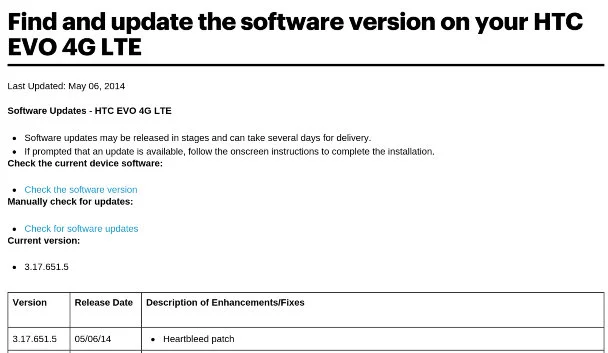 The HTC EVO 4G LTE is currently receiving a software update OTA to version 3.17.651.5. This is not the Android 4.3 update that everyone is waiting for, but it does contain a very important patch for the Heartbleed SSL security bug.
According to Android Police, Heartbleed only affects a very small number of Android devices – only devices running Android 4.1.1 are vulnerable. It does not affect earlier or later versions of Jelly Bean. (However, apps that you download might be vulnerable, regardless of the Android version, so be careful and aware of what you install on your device.)
Of course, HTC could have also "patched Heartbleed" by just releasing the Android 4.3 update – but that's a discussion for another blog post. (And hey, at least we know that HTC is still working on it…)
If you get the update, be sure to let us know how it's working out for you and whether or not you notice the introduction of any new, unnamed features – or worse, any new bugs.
[
Sprint
]