myCharge AMPPLUS 3000mAh portable charger review
The myCharge AMPPLUS is a very small charger that packs 3000mAh of juice for when you absolutely need to charge your phone. It also adds a pretty bright little flashlight to the mix, making it worth the pocket space you need to devote to it.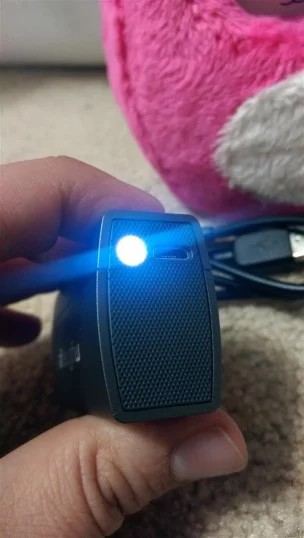 The AMPPLUS is the middle range product of the 2014 AMP series, with the others being the AMPMINI (2200mAh, no flashlight, 1A USB output) and the AMPMAX (6000mAh, 2.4A USB output).
As such, the AMPPLUS is a little too low amperage to charge most tablets, but enough to get most phones from dead to fully charged. It also can be recharged faster than it can charge other devices according to the specs (1amp output, 2.1amp input).
For most phones at the moment, a one amp charge will be enough, although your needs may vary depending on phone.
AMPPLUS in use
I've got to say that when I got this, I expected it to include something to put it on my keychain. It's about the size of what I would consider the largest thing you would consider keychaining, but there's no ability to attach it to anything. This is sad, because one AMPPLUS and something like the ChargeKey, and you've got yourself a keychain power solution.
The thing fits perfectly in a pocket, leaving room for my wallet, but it doesn't fit so well in a pocket if you've got to include a USB cable, which I had to as I lost my ChargeKey for the umpteenth time.
The flashlight is useful, not the brightest, but it'll get the job done. It is good to have in a pinch, and it also operates while the thing is charging or discharging, so it's always there. I don't know at what rate it drains the battery, but considering an LED light can run for days on a AA battery, I'd say you could probably expect days off of it.
Under use, my phone was reporting nearly 800mA positive charging, which probably means I was getting about a full amp charge. Unfortunately, I'm not sure how much you can trust a battery monitoring widget to properly report these things. The charge was at the top end of what I've seen on most portable chargers.
I plugged the AMPPLUS into a computer and then into my phone, and I got pass through charging (I'm assuming based on the lights), but there was no pass through data. Not that that's a deal breaker or anything.
All in all it was a good small charger.
AMPPLUS wrap up
I really wish this had some way to attach it to either a keychain or a belt. The 1000mAh output means this isn't going to be your tablet salvation in a pinch, and the lack of included cables means you're going to end up with more bulk to carry anyway.
Coming in at an MSRP of nearly $40, this puts it up in the pricier charger dollar per mA range, but on this you're paying for size and output rate.
It's a good charger, but I'd rather the price point were about $10-15 lower before I said it was the charger to beat all small chargers. It probably will be when it hits Amazon and the mass market finally.
The myCharge AMPPLUS is available from the manufacturer's website for $39.99.