MyCharge Razor Plus 3000mAh power bank review
I received the MyCharge Razor Plus 3000mAh power bank a couple of months ago, and over the last couple of months I've started enjoying some of the 2014 MyCharge offerings.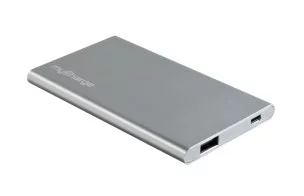 The main feature point of the Razor Plus is that it's extremely thin and delivers power to your phone like a wall outlet charger would. It's extremely fast, and it gets the job done.
There aren't a lot of features the end-user will notice at first glance, other than the shake to display power feature, but it charges and recharges faster than anything I played with last year. It also supports pass-through charging which is something I've come to realize is absurdly useful (put it in-line, forget about it, and when you need it it's there).
The downside of this charger is it's pretty low on the mAh ratings and up there in price ($59.99 MSRP, or $10 less on Amazon). It'll charge most phones currently on the market once from dead to fully charged, but after that you might have a trickle left if that. If you're on an HTC One M8 or something that sips power, you're pretty much set for another day of use though.  I would have laughed at 3000mAh on my last phone, but now that seems pretty decent.
It's extremely thin, feels solid, and gets the job done. Unfortunately the lack of a built-in power cord mean you're going to be dragging either a cable, or a ChargeKey/ChargeCard with you if you want to use it.
The fast charging technology claims to charge about 25% faster than others, and I'd say it was more on the level with being 100% faster than some. However, I've been known to have some bad USB cables (just chucked three), which have complicated estimation matters. My One M8 shows nearly +900mAh power flow when plugged in, which is pretty darn sweet.
When you're recharging the charger, you can power it at up to 2.1amps, which should drop recharging time to about under two hours. With a 1amp charger, you're looking at a little over three hours to get it filled from dead to full.
It won't charge most tablets, but for going out on the town and not hauling a jump starter battery, this is a great thing to slip into a pocket or a purse if you need to keep your phone, or your friend's phone, up and active.
The price is about exactly double what I'd expect in a decent 3000mAh charger, although you're paying for sleekness and very quick charge abilities here, not so much for mAh capacity, so keep that in mind.
The MyCharge Razor Plus 3000mAh power bank is available from Amazon for $49.99.