Nyne BASS Bluetooth speaker review
The Nyne BASS is a Bluetooth speaker capable of producing loud, rich sound with lots of – you guessed it -BASS. It's designed for people who will be using this outdoors, such as campers, tailgaters, and outdoor sports enthusiasts, although it's perfectly suited for indoor use, too. With a 10-hour rechargeable lithium ion battery, 20 Watts of power, Bluetooth 4.0 compatibility, an integrated power bank capable of charging your phone, and a built-in hands-free microphone for voice calling, this thing is certainly no slouch.
But is it right for you?
Before I answer that, let's take a quick look at the specs.
Specs
Form factor: High Quality Rubberized Finish Cabinet
Connectivity: Wireless Bluetooth Enabled and 3.5mm Aux-in
Wireless Range: 33 feet or 10 meters
Sound: 2.1 System With Two Active Drivers + an active Subwoofer With 35 Watts RMS
Power: 4400 mA Rechargeable Battery with 10 hrs. of Playtime
Functionality: Hands-free calling, One Touch Personal Phone Assistance Activation
Conveniences: Hidden Carrying Handle For Easy Transportation, NFC Touch And Connect Technology, Power Bank for Charging Your Phone, Integrated Microphone For Hands-Free Calling
Accessories: Universal AC Adapter With 4 Interchangeable World Wide Plugs, 3.5mm Aux-in Cable, USB Charging Cable, Quick User Guide, Warranty Card
Size: 13.5″ x 7″ x 6.25″ (W x D x H)
Weight: 6.65lb
In the Box
In addition to the speaker itself, the Nyne BASS includes a 3.5mm aux cable (2 1/2 feet long) and four interchangeable worldwide plugs, so that you can use this no matter where you are in the world. Of course, a warranty card and user guide in several different languages are also included.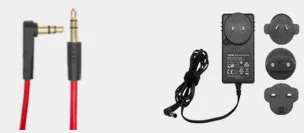 Standout features
So what sets the Nyne BASS apart from other Bluetooth speakers that I've reviewed? Simply put, there are lots of little things that, when combined, make me really, really like this speaker.
NFC connectivity: To pair my Google Nexus phone or tablet with this speaker, all I have to do is hover it close to the left hand side of the speaker. It will automatically turn my device's Bluetooth on and connect wirelessly to the speaker.
The hidden handle on the back: This makes transporting the speaker with one hand very easy, which is an important feature given the fact that this thing is fairly large, bulky, and heavy.
The ability to charge my phone via USB, and the fact that pass-through charging works (i.e. I can plug the Nyne BASS in and charge it, while my phone is also charging). While this can come in handy in a pinch, it's a slow 1A charge – so I wouldn't use this as my everyday charger.
I really like the large buttons along the top (power, volume down, volume up, phone, play, rewind, and fast forward): they are easy to see, easy to understand, and easy to press. In other words, they are fairly foolproof.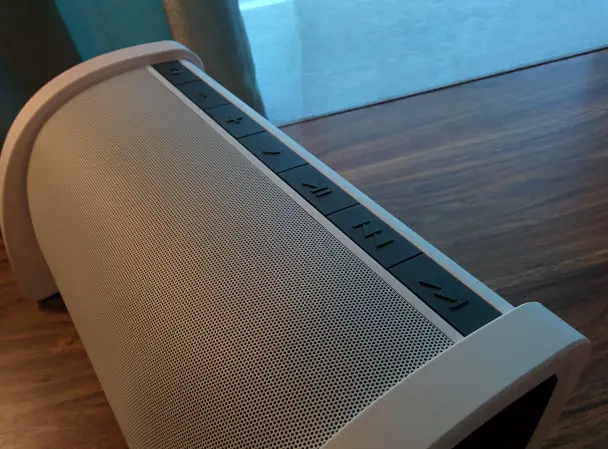 The playtime and distance ratings seem fairly accurate. While this shouldn't necessarily be a "standout" feature per se, I enjoy that – for once – a Bluetooth speaker manufacturer seems fairly honest in this regard. I really can go around 30 feet before the signal cuts out; this is one of the farthest reaching Bluetooth speakers I've ever had the pleasure to review. And it really does go for about 10 hours or so before it needs to be recharged.
The audio quality – it's good. I'll be the first to admit that I'm not audiophile, and so I can't always hear all of the finer points that some other people can. But the bass is loud and powerful, even at higher volumes. For some audio tracks I played, the treble did seem a bit too much – this could be a problem with my equalizer settings on my phone, though, rather than with the speaker itself. The sound quality of the Nyne BASS is truly beyond a shadow of any doubt much higher than its price point. You can definitely color me impressed.
My (minor) complaints
I don't like the fact that there is a power button on the top of the unit and an on/off switch on the back. This seems redundant and a bit unnecessary; while I understand that the switch on the back simply controls power, and the button on the top controls whether the speaker itself is on or off, I still think this can potentially get confusing.
While I like the fact that I can charge my phone off the speaker in a pinch, the speaker has to be on for charging to work. That's inefficient if I don't want to use the speaker at the same time. Additionally, the speaker has an auto-off feature if it's not in use for a little while – and although this is a great way to preserve the battery on the speaker, it's not so great when I want to charge my phone.
It looks like a printer. I know, this might seem like a silly complaint to make, but whenever I take it with me anywhere, that is always the first comment that someone will make. (The second comment is, "Wow – that thing gets loud!")
The only time this wasn't loud enough was during phone calls. If you place a call using this indoors, I'm sure it will be just fine. But when outside, I kept wanting to make it loud so that everyone nearby could listen and participate in the phone call. It just didn't get as loud as I wanted it to.
Overall impressions
The Nyne Bass is loud, powerful, clear, clean, and crisp. It's compatible with Bluetooth 4.0, so sound reproduction is top of the line – plus, it's got enough extra features that I don't think I'll get bored with it anytime soon. Coming in at only $150, it sounds like it should be closer to $250 or even $300 – price is definitely not something I'll be complaining about. And really, all of my complaints are pretty insignificant in the grand scheme of things.
I highly recommend this, and am excited about what else Nyne might have up its sleeves.
The Nyne BASS Bluetooth speaker is available for $149.95 at Amazon in either black/silver or white/gray.