2013 Google Nexus 7 32GB now available on eBay for $110 off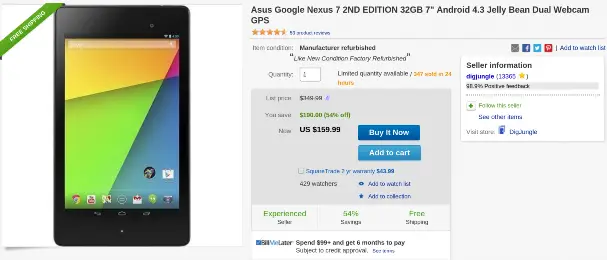 Over the past few months, we've been reporting on tons of Google Nexus 7 eBay deals, because let's face it: there have been a lot of them, and the tablet is still one of the best Android tablets currently on the market. Also, because Google is probably gearing up to release the 2013 Nexus 7's successor sometime soon, the deals are getting even better and more frequent.
Right now on eBay, you can snag a manufacturer refurbished 2013 Nexus 7 with 32GB of on-board storage for only $159.99 – that's $110 off the normal price if you were to purchase this through the Play Store. Additionally, US shipping is free.
If you're hesitant about buying a refurbished tablet through eBay, it might help to know that the seller has a 98.9% positive feedback rating, and – if you're into this – the tablet is also eligible for a two-year SquareTrade warranty for $43.99.
I know I've said this before about these eBay deals, but this is a fantastic opportunity to get an awesome tablet at a really good price, with no bloat and guaranteed updates for at least another six months, if not longer. If you don't want to wait to see what Google might unveil next week at I/O, then pick this up before it runs out!
[
eBay
]