Review: 15-inch Apple MacBook Pro (2013)
I've already written about Apple's refurbishment process, and whether or not it's worth the massive savings. I've already written about how much I hated my Microsoft Surface Pro, and the reason behind my motivation to switch.
And now, as I close in on two months of owning my MacBook Pro, there's only one question left to answer: was the switch – and the $1,800 that I spent – worth it? Is the Retina MacBook Pro the all-around perfect mobile workstation that Apple so desperately wants and needs it to be? Keep reading my review to find out.
Quick Specs
My MacBook Pro is the base 15-inch model. It comes with a 2.0GHz Intel Core i7 processor, 8GB of DDR3 1600MHz RAM, a 256GB PCI-e based flash drive, and Intel Iris Pro integrated graphics. One thing to note is that the memory and storage are soldered to the motherboard; in other words, what you buy is what you'll be stuck with for the entire time you own the computer.
Packaging
Since I purchased the refurbished model, I got Apple's nondescript refurb packaging: a simple white box with no pictures. It's the only tradeoff for purchasing a refurb, and it keeps the laptop protected just as well as any other box would. The MacBook Pro itself is surrounded by foam inside the tough cardboard shipping box, which keeps it secure and, ultimately, super safe.
Hardware
For our hardware tour, we'll start on the left and work our way around. This side of the MacBook Pro houses the MagSafe 2 power adapter, two Thunderbolt 2 ports, a USB 3.0 port, and a 3.5mm headphone jack.
The front of the MacBook Pro is completely bare, with the exception of the little groove you can use to open the magnetically-latched lid.
On the right side of the laptop you'll find another USB 3.0 port, a full-sized HDMI port, and an SD card slot.
Since the introduction of the unibody MacBook Airs, Apple has begun to divide its ports on both sides of the computer for easier access to a variety of ports. Old unibody, non-Retina MacBook Pros held all of their ports on the left side to make room for the optical drive, which caused a lot of clutter on one side of the computer and, sometimes, would prevent some ports from being used simultaneously. The new layout solves that problem, even if there isn't an optical disc drive (though that could be a problem for those of you with large physical media libraries or who depend on physical media for your jobs).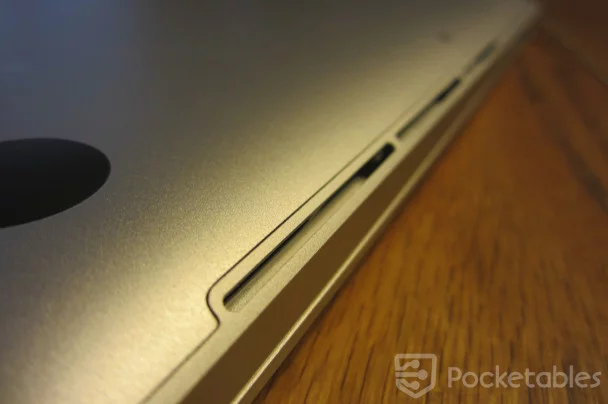 The Mac's exhaust outlets line the outer edge of the bottom casing. The fans rarely kick up, but when they do, these small slits are still able to allow enough hot air to exit the shell to prevent any overheating of the internals.
Unfortunately, the slim design comes at a cost: there are no user-replaceable components in the Retina MacBook Pro line. What you buy is what you get; you can't upgrade RAM, storage, or any other component. Everything is soldered to the motherboard, so even if you were to buy a replacement motherboard with upgraded specs, you'd still void your warranty and it would be incredibly hard to get everything together correctly.
That may not bother some of you, though: even the base Retina MacBook Pro is decently equipped. Still, tinkerers and future upgraders are out of luck here.
Screen
The main draw of the 15-inch MacBook Pro is, of course, its 2880 x 1800 15.4-inch IPS display. I've looked at my fair share of incredible screens – everything from the Samsung Galaxy Note 3 to the third-generation Apple iPad to even the Microsoft Surface Pro – but none of them come close to the MacBook Pro screen's color reproduction; wide viewing angles; or massive, pixel-dense real estate.
There's a reason Apple markets the hell out of the Retina MacBook Pro line's screens: they're incredible.
Software
Since OS X Yosemite still isn't available to all Mac users, the MacBook Pro still runs OS X 10.9 Mavericks. It's a great operating system, building on the solid foundation of Mountain Lion before it. What's better, though, is that all new Macs running Mavericks come with Apple's iWork suite standard – you don't have to pay an additional $80 for the beautiful and powerful software anymore. All Macs also come with the latest iLife suite, which includes creative apps like iMovie and Garageband. The best part of the included software? All of it will be upgraded for free for the entire time you own your Mac.
Performance
Apple's 15- and 17-inch MacBook Pro models have always given power users a workstation on the go, and this 15-inch Retina model is no exception. I've done everything on this machine: I've gamed, I've edited HD video, and I've used it as my main machine, driving not only its Retina display but also two other 1080p monitors. The thing is beastly.
And really, that's no surprise. Inside its 0.71-inch chassis is a number of high-powered components that allow the MacBook Pro to chew through any task thrown at it.
While this machine is able to do just about every task incredibly well, one area in which it falls short is gaming. Intel's Iris Pro integrated GPU is an incredible amount faster than its predecessors, but it's still an integrated GPU. So while games like Half-Life 2 can run in 1080p with all the settings on high, you shouldn't expect to run the latest Tomb Raider on anything but medium settings at 720p.
Benchmarks

GeekBench 32-bit
Blackmagic Disk Speed Test
Keyboard & Trackpad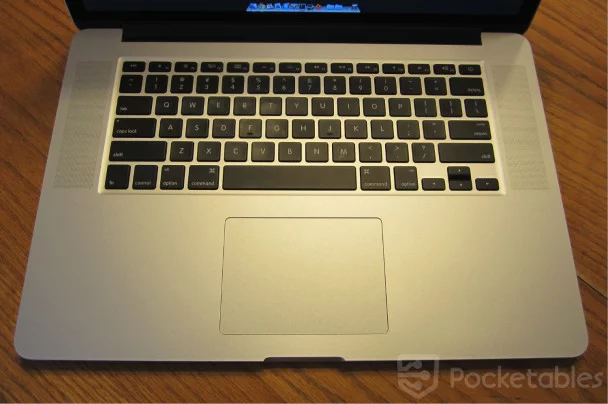 Apple's glass trackpad is the absolute best trackpad in the industry. Period. There simply is not a better trackpad from any of the other guys. Every gesture, every click, and every swipe on the massive trackpad register perfectly.
The keyboard is nearly equally impressive. It's a bit more shallow than the keyboard on the industry-leading ThinkPad line, but it's very comparable. I'd also personally prefer concave keys to Apple's infamous chiclet- and island-style layout, but spacing is good and each keystroke is responsive, so that matter is subjective.
Apple picked a winning formula with its 2008 unibody MacBook Pros and hasn't changed it – which is a very, very good thing. The combination of a superb keyboard and a stellar, perfectly tuned trackpad makes the MacBook Pro the perfect companion for mobile computing.
Connectivity
There isn't any sort of any embedded cellular connectivity, but Apple has given the MacBook Pro the latest versions of Bluetooth and 802.11 – specifically, Bluetooth 4.0 and 802.11ac. The MacBook Pro can connect to a lot of devices and networks with those technologies, so as long as you're in range of an open or known WiFi network, you shouldn't ever have the need to connect to your cellular network.
Webcam
Since November of 2010, Apple has branded its MacBook webcams as FaceTime HD cameras. That hasn't changed for the company's latest line of MacBook Pros, either – the webcam in this model is still a 720p-capable FaceTime HD camera. It's perfectly capable of providing enough quality for Skype or FaceTime calls on most Americans' bandwidth, but it's getting dated. Considering that the 15-inch MacBook Pro has over four million more pixels than 720p resolution, there is a noticeable discrepancy in quality when watching a video on a site like YouTube versus your face through Photo Booth and the webcam.
Battery Life
Battery life is the biggest reason I switched from the Microsoft Surface Pro. My old Microsoft tablet barely eked out four hours of battery life on a single charge, which is surprising given its ultra-low voltage Intel i5 processor and small screen.
My MacBook Pro, on the other hand, gets a consistent eight hours of battery life. That's with the screen at 75% brightness, too, and with all of its wireless connectivity turned on.
Haswell is an incredible feat of engineering by Intel, and Apple combined the chip's fantastic power-efficiency with a massive battery to produce one of the longest-lasting 15-inch notebooks on the market. If you can't compromise on battery life or power, the Retina MacBook Pro should be at the top of your list, regardless of your thoughts on OS X.
Conclusion
This is the best laptop I've ever owned, and one of the best computers I've ever owned, too. It's thin, it's light, and it lasts forever on a single charge, despite its beefy internals and incredibly high-res display.
To be fair though, it's also a lot of money. Even with the refurbished discount, my laptop was still $1,800 (including sales tax). That's a lot of money to spend on any product, let alone a 15-inch laptop.
Personally, it was worth the large expenditure. I need longevity, power, and a beautiful screen to do my daily work. To get all of those key features in a slim, portable form factor is phenomenal – and there is not a better option on the market if you need all of them.