ROM Picks: InsertCoin 3.0.5 for the HTC One M8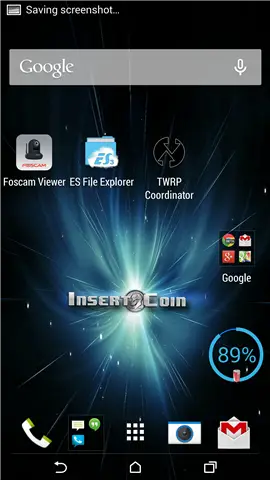 InsertCoin is a cross-carrier HTC One M8 ROM that works on CDMA and GSM variants. It's based off of Sense 6, Android 4.4.2, and comes in a highly configurable Aroma installation package which allows you to configure how you want the ROM to play.
InsertCoin works with Dalvik or ART runtimes, but neither runtime seem to be a clear winner in terms of benchmarks or battery life.
It also comes with a marketplace for news, system mods, wallpapers, boot animation, and sound packs. The only issues I have with the InsertCoin Market is that I strongly feel it should be called an arcade or a game room if you're going to maintain the theme, and there seems to be a notable lack of installable kernels. The Applications and Sound Packs also don't seem to be choosable.
The ROM also includes an InsertCoin Kontrol, which allows you to define per-app colors, change the Prism theme, re-map the Extreme Power Saving mode choices to apps you want (perhaps defeating the purpose,) disable or enable most icons in the status bar, enable landscape support in Sense, add long press back to kill, remap the motion launch gestures, switch to AOSP lockscreens, CRT animation, and a lot of other things.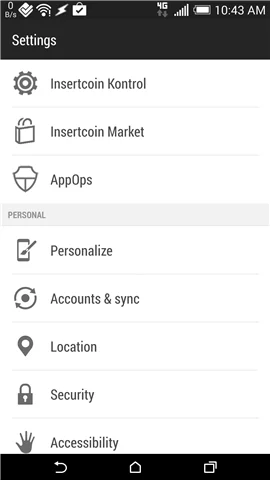 Updates for the ROM can be found in the HTC updates sections – settings, system update, HTC Software Update. If there's a patch or new version of the ROM you'll see it there, even if HTC had nothing to do with it.
With AppOps (yet another feature thrown in), you can manage any app's operating permissions, so you can install known spyware but restrict the ability to access the GPS, internet, or your contacts so there's nothing they can do.
I've been running this ROM for a couple of weeks and three versions now, and the only thing that it doesn't seem to do by itself is allow you to access some dialer codes  (##778#) or force roam-only on Sprint. For that, there are flashable mods, but they're done on your own.
All in all it's a very smooth Sense ROM, AnTuTu scores are all over the place depending on install options, but generally it seems to perform slightly better than stock all around.
If you're looking for a ROM with a lot of options for what you already know and not too many competing random features thrown in, InsertCoin takes stock and kicks it up a bit to make it just right.
[
xda-developers
]