Sorry, Sprint – T-Mobile's Music Freedom is still better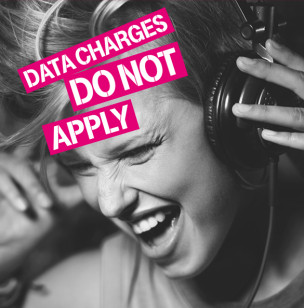 In case you missed it, Sprint tried to be snarky late last week when it sent out a press release titled "Stream All the Music You Want with Unlimited Data from Sprint," in which it stated: "It looks like our competitors agree with us that streaming music is a big deal and important to customers." It then went on to describe its recent deal with Spotify:
Sprint exclusively offers our customers access to Spotify's catalogue of +20 million songs for either three or six months for FREE, plus reduced Spotify Premium pricing for 18 months for Sprint customers on Framily plans (up to $7.99/mo/line. After 24 months $9.99/mo/line; cancel at any time). And, with unlimited data, you don't have to worry about overages or sharing while on the Sprint network.
Sorry, Sprint – I see what you're trying to do here, but Music Freedom from T-Mobile is still a better deal. Let's take a look a why.
1. Sprint wants to tell you who to stream your music through.
Sprint is pushing Spotify on its customers, while T-Mobile isn't trying to make that decision for any of its customers. When Music Freedom launched last week, T-Mobile announced that music streamed through Pandora, iHeartRadio, iTunes Radio, Rhapsody, Spotify, Slacker, and Milk Music would not count against any high speed data caps. And as if that wasn't enough, T-Mobile is also allowing its customers to vote on which services should be added, with a commitment to customers that basically goes like this: If there's something you want added, just tell us and we'll see what we can do to add it.
Right now, future possibilities include Amazon Prime Music, Beats Music, Google Play Music All Access, Grooveshark, Jango Radio, Last.FM, Rdio, Sirius XM, Sony Music, Soundcloud, Tunein Radio, and Xbox Music.
2. Sprint's deal with Spotify will have you paying more and more over time.
Sprint's new deal with Spotif might look awesome at first – but it gets progressively  more expensive the longer you keep it. It starts for free, and then after either three or six months depending on your plan, it goes up to $8/month, per line. Then, after 18-24 months, it goes up to the regular price of $10/month.
T-Mobile has created its own streaming music offering with Rhapsody, which it calls Unradio. This service features ad-free listening, unlimited skips, the ability to download music for offline listening, personalized radio stations, live streaming local radio, and more. Better yet, it's free for customers on T-Mobile's latest unlimited data plan, and $4/month for everyone else. That's the permanent price, not a promotional price. Who's better now?
3. Sprint is obviously attacking T-Mobile while touting it's unlimited data – but this doesn't make sense.
Sprint's announcement here is obviously in response to T-Mobile's Music Freedom, and Sprint reminds its audience several times throughout the announcement that its unlimited data customers won't ever bump up against their caps when streaming music. That's great, but not all Sprint customers have unlimited data anymore.
T-Mobile, on the other hand, also offers unlimited data, along with more generous data buckets – and even with all that, T-Mobile won't count most music streaming against those customers with data buckets. I mean, I get that Sprint is just trying to twist words and portray itself in a better light, but in an apples to apples comparison, Sprint just comes out looking dishonest here.