TWRP Coordinator for Root – recovery management from Android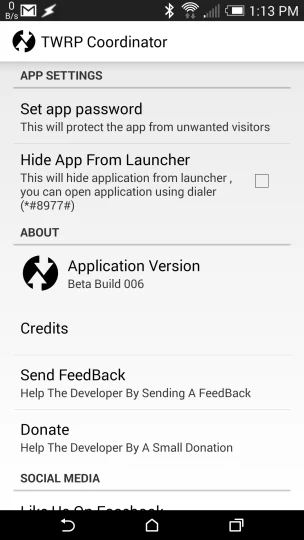 TWRP Coordinator is an Android application for rooted devices that lets you plan out your recovery mode actions while still running your device. If you think this sounds familiar, you probably have played with or heard of TWRP Manager by a different developer.
TWRP Coordinator allow you to install the latest version of TWRP recovery on your rooted device, choose multiple operations to do in recovery, secure the app with a password or hide it from launcher and require a dialer code to access.
The main differences between TWRP Coordinator and TWRP Manager seem to be:
TWRP Coordinator:
ability to lock the application
ability to hide the application
Ad free
Coordinator seems to be less intuitive when you want to make a backup
Ability to save backup to external SD card
TWRP Manager:
Offers live backup in premium version. No need to take your phone offline to back the device up.
More intuitive
Ads or pay
Options for compress/no compress
Themes
Choose to not generate an MD5, saves a lot of time
During my testing of this with TWRP 2.7.0.1? installed from Team Win's website, TWRP Coordinator claimed there was no TWRP recovery installed and had me install it again from Android File Host. I figured there was a good chance that the TWRP I was going to get would not be the one that's compatible with my Sprint HTC One M8, so it rather surprised me when it actually did work and had version 2.7.1.0 on there.
There's a warning on the download page about that this may be a bug with SuperUser and to use SuperSU, however I don't seem to fall into those categories and it detects after it installed. Oh well… weirdness happens.
Something else I noticed that was odd is that the Coordinator does not recognize my external SD backups. This isn't a particularly horrible occurrence as I can get them via recovery, but it is kind defeats the purpose of it on my device.
There's no option to define where the external SD card is, and it claims it's an empty folder when I go to manage the backups  (it's not.) Something to note however is that TWRP Manager now is claiming that they're only able to back up to the internal storage because of changes made to TWRP recently, so perhaps external is just something that's out of reach for a while from Android-based recovery scripters.
At the moment, neither of the managers offer a comprehensive complete solution for recovery management from Android, at least not on my M8, although Manager seems to offer more things I like than Coordinator as I don't particularly have a need to hide the application and I generally skip MD5 as I've got backups in the cloud of anything I might need.
But if you're interested in playing with something ad-free and pretty neat, Coordinator is free and seems to work pretty well on internal backups, which is what it seems Manager may be stuck in these days as well.
One interesting thing to note is that the application name of TWRP Coordinator is com.KingCobraInc.twrpmanager which makes me think they didn't set out looking for their competition when they started this project out.
Download: Google Play