myCharge Talk & Charge+ for Micro-USB review
The myCharge Talk & Charge+ for Micro-USB is a slim 4000mAh lightweight portable charger that has the aim of sitting on the back of your phone out of your way when you're talking and charging.
I've played with a lot of portable chargers on a wide variety of phones, and you usually end up with a phone sitting next to a charger, sideways on top of a charger, or just disconnecting it when you're using the phone because the thing is a brick.
The myCharge Talk & Charge+ has a pull-out Micro-USB cable that fits perfectly with any phone that has the MicroUSB on the bottom of the device. Since not all manufacturers orient the Micro-USB port the same, you can use either side of the myCharge Talk & Charge+ to place your phone.
On either side of the charger you've got four little rubberized grips that attempt to keep your phone from sliding off. I have a feeling they'll grip most devices fine, I happen to have a set of devices that are curved or encased in very slick hard to remove cases, so I didn't get much in the way of grip.
The myCharge Talk & Charge+ is capable of delivering two amp output on the Micro-USB, and one amp on a side USB port in case you want to charge something else. The spec sheets don't indicate if the max power output is three amps across the board or two amps split between the two. I have no two-amp microUSB devices to test so I can't comment on it, assume two amps across the entire device and you shouldn't be disappointed.
Devices with the USB charge port on the side cause the idea of a streamlined charger to fail unless you get a very short USB charging cable and put it in the side port of the myCharge Talk & Charge+. My HTC EVO 4G LTE (side USB,) looked stupid, my wife's HTC One or my M8 looked fine but none of them really gripped the rubber grips.
Since the rubber grips are on both sides of the charger, you can set it on slightly askew surfaces and not have the thing slide. For most of my devices with their non-gripping cases that's the most I could expect out of it – that it provided a slightly better base to charge from.
At having played with nearly 50 chargers now, it's got some nice features, the weight is very light, but the price is kind of high at $59.99. Then again, it's also new, extremely light, and kind of spiffy. Wait a bit and I'm betting the price will drop. It's the kind of charger I wouldn't complain at a ~$35 price tag, but anything more and I need it to be the perfect charger for me, and it's not quite for me.
Then again, I put up with using the myCharge Hub 6000 while talking on the phone and dangling like a brick off of my phone for quite a while, so perhaps I have a higher threshold for charging and talking.
In the end, it's another myCharge product I like, but I'm not happy with the price at the moment.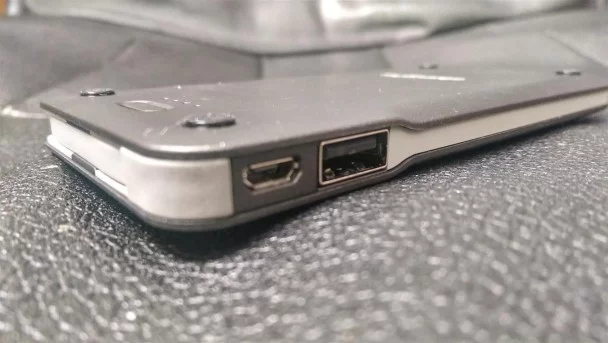 The myCharge Talk & Charge+ for Micro-USB is available from myCharge for $59.99. There's also an iPhone version for the same price, although it comes with a smaller battery, lightning connector, and no USB as far as I can see.