Justin 5,400mAh Power Bank review
For starters, if you're reading this, you're probably standing in a retail establishment wondering "Should I get the Justin 5,400mAh Power Bank?" Justin is a series of products that are not available online, so you'll need to wander to a store to locate them.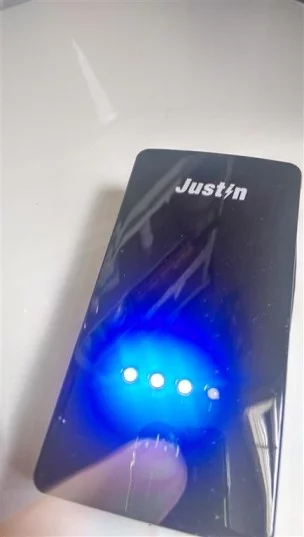 They'll be most easily found in BonTon, Burlington Coat Factory, Kohl's, Ross, ShopKo, AAFES, and Staples Canada. They'll supposedly be in Target and Belk sometime in September of 2014.
The Justin 5,400mAh Power Bank is a charger with built in charging plugs, so you can slap it directly into a wall outlet and charge without a computer of power adapter. It also includes built in micro USB and Apple Lightning adapter cables, so you can charge either an Android or an iPhone, or you can charge both simultaneously.
There's also a USB port on the bottom of the thing, in case you need to charge yet another person's smartphone. You could be the battery life of the party, although the battery is limited to 2.1 amps, which has to be split between all available ports. So This can charge two standard Android devices at full tilt, but once you throw something else into the mix you're probably only going to charge them at 2/3rds normal charging speed.
The Justin 5,400mAh Power Bank also should have a charge and be available to at least charge your cellphone once right out of the package. I don't believe my unit had a completely full charge when I got it, but I recharged two half charged cell phones and still had an indicator light left.
When the charger is drained, just pop the wall plugs out, slap it into the wall, and within three hours (if I timed it right) the thing is completely charged and ready for action.
One of the things about this particular charger that brought it up on my radar is the functional resemblance to my favorite charger in the world, at least in terms of function. It doesn't look much like it, and I can't say I'm particularly fond of the looks of the Justin 5,400 as it tends to show fingerprints far too easily, but it's also a very easy to wipe down charger.
With every test I threw at it last week, the charger came through with flying colors. From whether it would deliver the full 1amp my Android device was requesting, to sharing charges, to recharge times, the Justin product came through.
With that in mind, there were some things I did not particularly like about it. Among these were the built-in cables seemed less robust than most other chargers. Most others use flat rubberized ribbon, while the Justin 5,400 mAh Power Bank uses thinner round cables. Even though I've not been able to break one yet, they remind me of the many micro USB cables I've gone through so far.
The second is the claim that it will charge your smartphone three times from 0 to 100% on a 5,400mAh charge. By straight forward thinking, this means the maximum battery capacity your phone could possess would be 1,800mAh… 1440mAh with 20% conversion loss which is a standard battery for an iPhone 5, but not the rest of the phone universe.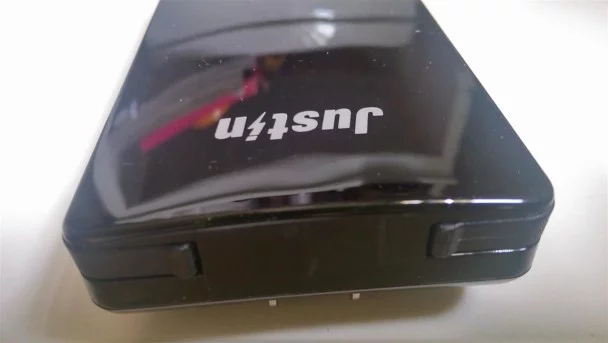 For marketing, it seems it would have been better to simply put that it would charge an iPhone 5 from 0 to 100% 3 times. Eh, just being nitpicky.
Overall, it's close to having just done everything right as a recharging product, but as a portable product the plastic casing doesn't feel like it could take much damage. I didn't feel like destroying the product to see, but the case does feel like plastic as opposed to armor, which most of the portable chargers I get these days feel like.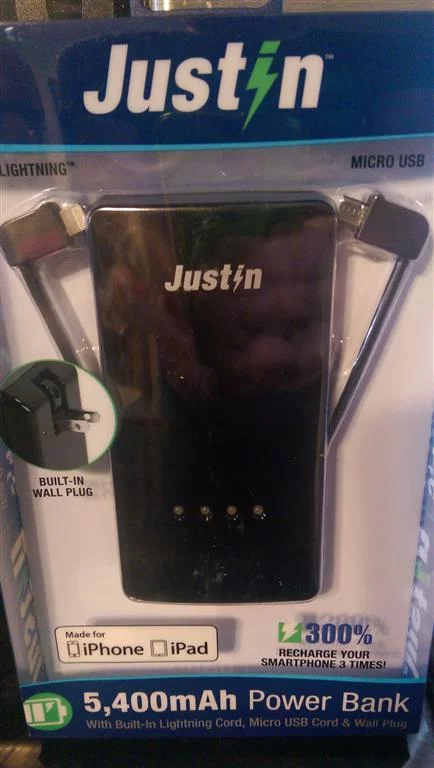 Pros:
Does what a multi-charger should
Fast charges up to 2.1amps
Retractable wall plug to recharge the charger anywhere
Charge up to three devices
Cons:
Doesn't feel like it would withstand dropping very far
Wires feel like the ones that fail on me all the time
Sleek black plastic case attracts fingerprints
Misc
Sometimes when a manufacturer reaches out on a product that's not yet available or brand spanking new there are errors. In this case I was told, and the website indicates a 5200mAh charger, I got a 5400mah charger which is the same as the 5200. As such the MSRP and specs may be subject to change. MSRP and product are the 5,400mAh.
Availability
In-store only, you cannot order them from the manufacturer's site or anywhere I've located online. The rep also told me that, so if you see any online, let me know.
The MSRP is $69.99. Retail outlets get this product for significantly less and can set their own prices. If you see it in the $34 range, I'd say go and grab it. Anything higher, make up your own mind on whether it's worth it to you.