T-Mobile is going to start throttling data abusers, but it's not as bad as you might think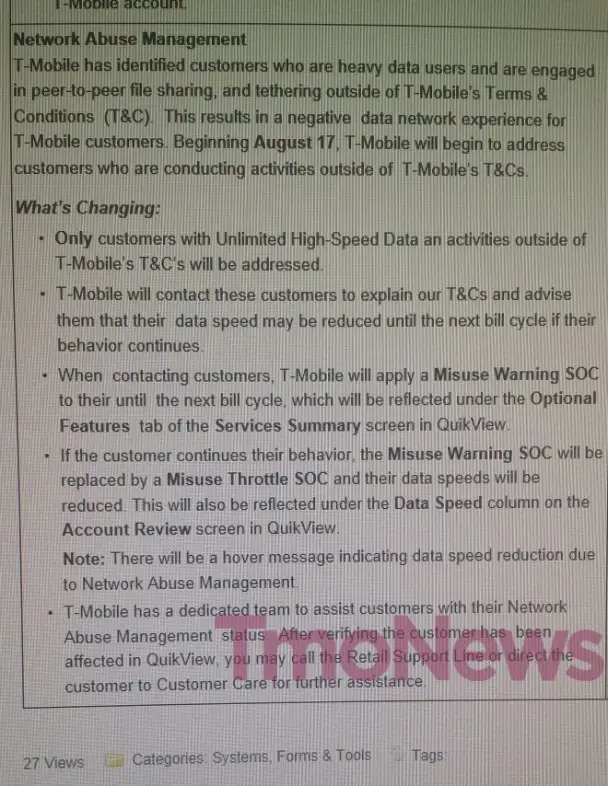 News broke earlier today that T-Mobile would begin throttling its heaviest data users (and abusers) – those who torrent and those who use various hacks to circumvent T-Mobile's built-in tethering restrictions.
While some of you will immediately cry foul, and say that unlimited data should be just that – unlimited – let's put things in perspective. If you spend any amount of time in tech forums that have high percentages of T-Mobile users, you've probably seen people brag about how many gigabytes of data unlimited users have been able to squeeze out of their data plans: 20GB; 100GB; I've even seen people who claim to have used almost 500GB of data in a single monthly billing cycle.
At the same time, T-Mobile has become the fastest growing carrier in the United States. It has added over a million customers every quarter for the past year, and its momentum doesn't seem to be slowing down. It is set to replace Sprint as the third largest carrier in the US by the end of this year, and while it's trying to scoop up more spectrum in more spaces, it takes time to deploy this and make those airwaves usable for end users.
And, unlike most other carriers, there have been zero indications that it intends to completely do away with unlimited data any time in the foreseeable future. Something has got to give.
And that's the thing – yes, data is data, but T-Mobile is not an internet service provider, at least in the sense of wire-line traditional ISPs in this country. It is a mobile service provider, and it operates with a limited amount of resources. T-Mobile has never explicitly permitted people to torrent on its network, or tether hundreds of gigabytes to desktop computers. This type of network abuse only serves to congest the network and degrade the experience for other users.
Additionally, T-Mobile is going to be transparent about its plans. According to TMoNews, before throttling occurs, T-Mobile will contact affected customers to explain the terms and conditions and help them change their behavior. If the customers continue to abuse the service, T-Mobile will throttle the data access in the next billing cycle.
To be clear, this will only affect unlimited users – if you've got a data cap already, you can continue to use your gigabytes any way you please. It's less clear how long it will take T-Mobile to remove the throttle once users get that added to their accounts, but hopefully most people won't find themselves in that situation in the first place.
And in any case, this is much better than what other companies have done, such as arbitrarily cutting people off or throttling data without warning (I'm looking at you, Sprint).
What do you think of T-Mobile's plans?
[
TMoNews
]