Undeleter for Root Users – recover your data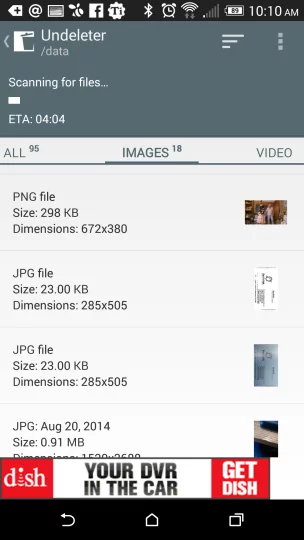 Fahrbot's Undeleter for Root Users is an application which can scan your phone's internal and external storage and recover files you've accidentally deleted, or files someone else has purposefully deleted.
A few weeks ago, we wrote about Avast's rather creepy PR stunt where they recovered a lot of data from previously loved cell phones and may have wondered how that was possible. Well, here's an app that will do most of that for you.
When you delete a file on an Android device, it's not really gone – the file has just been unlinked. The way the file systems work, it's also not going to be gone until such time as that space is re-used, which will be after most of the other spaces on the card have been used to prevent wearing out the media.
As such, you've got a great chance at recovering most files.
Undeleter will scan the media and can recover any images that may have been deleted in the free version, and in the unlocked pay version you can recover anything you want.
In a couple of tests I ran, it recovered any image I had recently deleted, and I found several that had been moved off of internal storage months ago that I could recover if I wanted.
I haven't had a chance to put this up against a formatted SD card yet, so I can't comment on how well that will or won't work. It's not listed that I can tell, and the app is called Undeleter not Unformatter, so who knows?
If you just want to recover some pictures and you have root, this application is for you. If you want to see what's recoverable before you sell your phone, Undeleter is for you.
It should be noted that the application requires root access, and it's not possible with Android security to do what it does without it. If you don't have root, don't rate this down – this is Google's security model, not Undeleter's shortcomings.
If you want to support the developer, or want to recover something that's not supported by the free Undeleter app, you'll be out $2.99, or you can scour Google Play for other undelete apps. Your choice.
Undeleter is free (for image recovery) and $2.99 for some other files and is available for download at Google Play.
Download: Google Play