Windows Phone 8.1 hands-on review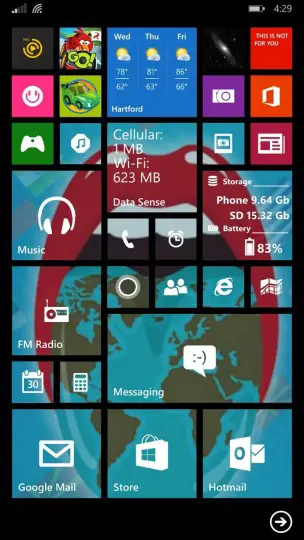 Pocketables reader and active forum member JRDEMASKUS just installed the Windows Phone 8.1 update on his personal device, and wanted to share his experiences with Microsoft's latest mobile OS with the rest of us. Check out his hands-on review below!
Here is my experience with Windows Phone and the 8.1 update.
So far, I love the notification shade, which is a lot like Android with much of the same functionality, too. You just have to pull it down once to see five customizable buttons, like Airplane Mode, WiFi, Bluetooth, screen brightness, location service … and some other choices. There is a permanent button for "All Settings," and then your choice of notifications from SMS, email, and apps. There is also a "Clear All" button.
Another nice touch is that the battery percentage is now listed when the shade is open, as well as the date.
So far, the shade seems to work on most screens. It almost interferes with game play, as sometimes I activate the shade by accident (my fingers slide onto the top bar or bottom capacitive buttons, interrupting the game). Another case for hardware buttons.
The top Notification bar and bottom Menu and Navigation bars seem smaller, with tight crisp icons.
"Backup, including app content" is a promised new feature. I lost a game earlier this month, trying to reset my failing device. I have since replaced that device, and it would have been great to pick up where I left off in the game instead of starting over. However, the functionality needs to be enabled by the app developer. I am not holding out much hope for game progress to be saved in a backup.
Then comes installing an app to SD card. For this review, I installed a game to SD the card, made progress, then factory reset the device, restored my cloud backup, and opened the game. It did not save my progress.
Restore Settings from Backup worked slightly better. I did not have to reconfigure my Start screen or all of my settings. But not all of my apps restored – I had to go looking for them in the store.
Speaking of the store, Microsoft finally fixed it. App download history is now available. Use the "More" button to see "My Apps," which shows you all the apps you have tried, but are not currently installed. "Downloads" shows apps holding for installation. Swipe left or right on this screen for "History," to see your app install and update history, and apps waiting for "Update." Selecting the app here takes you to the store listing for the app. I was missing these features before the update.
However, the store did not finish syncing until 48 hours after my last factory reset. So, your view may vary. Not sure why it took so long. I kept checking, then finally I saw it sync, and the list appeared.
Not all of the tiles on the Start Screen (Home) are transparent to show the new Background Image function.
The background image only shows on clear tiles enabled by the developer. Where there is no tile, there is black space. This could make for fun censor bars on a risqué background photo if the tiles were easier to place where you want them. But Windows still "helps" by rearranging tiles for you. It takes some work to get it all in the right place, and you may end up with tiles you don't need, in odd sizes, just to see the image acceptably.
There still is no "live wallpaper" feature, despite the sporadic use of the word "live"… i.e. tiles or lock screen image.
A new Internet Explorer feature is the ability to swipe right to go back, which seems unnecessary, as I always have a back button present. However, swipe left to go forward may be useful. Both actions take just as long as reloading the page. But we didn't have forward before.
"Data Sense" keeps a count of both cellular and WiFi data used, on a Live Tile if you want. It is also a function to choose how much data Internet Explorer uses on cellular. And there are new data transfer indicating arrows on the top notification bar, so you can see when data is being transmitted.
There is a new "Reader" function, that has a customizable view. Not sure I would use this, as the icon to choose it shows up after the web page has loaded. It might be handy for screen shots? It is a stripped down version of the page, with no side crap, banners or ads, if the page is compatible with the Reader function.
The new camera feature, Living Images, is cool. Just a moment of moving image before it freezes. Perhaps it's a single cycle GIF? In any case, it was enough to catch two wags of my dogs tails.
The image only moves once when you scroll to it in the camera roll. I did not see it move when I scrolled through my photos. And I don't know if I can share a "Living Image." So far, sent as an email, it did not move.
Game play is not as smooth.
To be honest, I am only playing one game regularly – Angry Birds Go. But it is not running as smooth as it was before the update. Graphics sometimes pixelate or do not render correctly.
I saw rumblings in the ABG Forum about the game not working at all in the 8.1 preview, but you know how it is with forums … not everybody has the same experience.
I never embraced the Swype keyboard before, and I am still not finding it useful or accurate enough now that it has been added to the stock keyboard. I am not using it.
I like the emoticon suggestions that pop up after I type corresponding words. But I still miss cursor keys for aiming. It seems third party keyboards are still not an option.
Auto correct works, with new features, or I am learning how to use it better. But it is still sometimes frustrating, struggling to get a word close enough to be recognized. I can see why some people still have horrible spelling skills – autocorrect is just not getting the job done. I thought there was a level to be set, but I can't find it in either WP or Android anymore.
Cortana. At the moment, I do not need a personal assistant. But I was going to try it for this review. Till I read the permissions.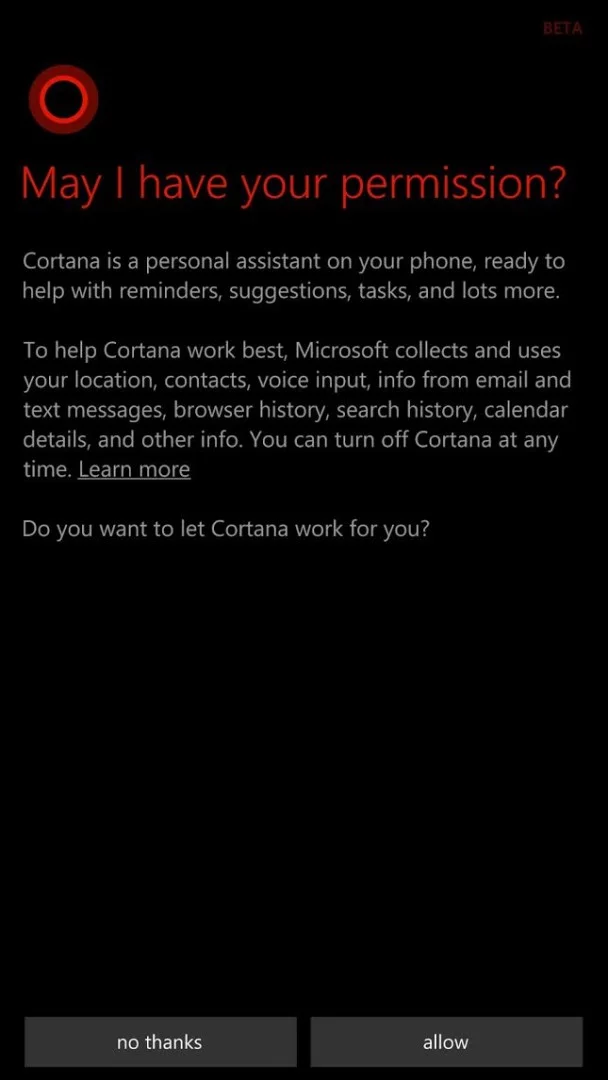 Basically, Microsoft is going to scour your device for any lick of information it can find. Yeah, I know we give away all our info anyway, but it just turned me off when I opened Cortana for the first time. It wants everything! Just about every app has a permission screen the first time you open it, usually just "Location" or "Contacts" when I setup email, for example.
Without enabling Cortana, I can still press and hold the Search button, then speak Searches and commands like "Text Amy" then compose and send an SMS following voice prompts.
So far no luck setting an alarm, but I was able to launch an app. I don't believe this is new functionality, but it seems Cortana is supposed to be a more enhanced voice command app.
I have a "smart" Bluetooth device, and the speech to text functionality suits my needs, without over reaching permissions.
There are many features I may not recognize as being updated or on the device before the update. There are several new installed apps that I do not use regularly if at all. I have only touched on a few.
Take FM Radio, for example. Didn't notice it before, but it is there now. It needs the headphones plugged in for an antenna, but you can switch to the device speaker if you want.
The control panels and sub menus of old Windows Mobile served their purpose. Since Windows Phone adopted the settings page layout, like Android, it is just not the same. Some might say that is a good thing.
Overall, Windows Phone is easy to use, once you find how to move around, and recognize where things hide. I still find it just as frustrating as Android, trying to remember, "How did I get to that setting last time?" It isn't always as obvious as it should be.
The above was a guest post by Pocketables reader and forum contributor JRDEMASKUS. Interested in submitting a guest post of your own? Get in touch!