Aukey AI-Power Quad-Port USB Car Charger review
The Aukey AI-Power Quad-Port USB Car Charger is a beautiful exercise in overkill that doesn't leave you disappointed with the results.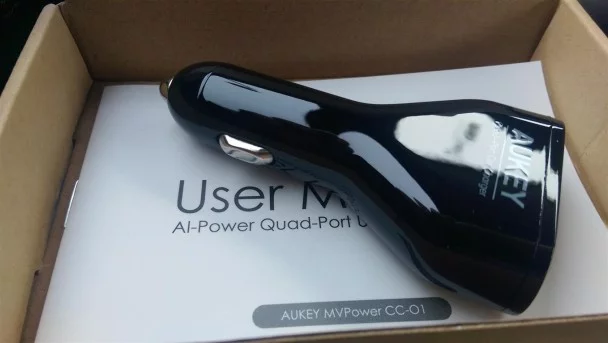 A slim, sleek USB car charger for you and a friend, and that friend's friend, and that friend's friend's friend, the charger is capable of delivering 48W/9.6A across four USB ports with each port's power being delivered independently up to 2.4amps per port.
The AI-Power portion of the name is a feature they have that will talk to your device, find out what its needs are, and deliver the right amount of power for it without having to change which port you plug into.
YWith the Aukey AI-Power Quad-Port USB Car Charger you can charge four iPad Air tablets off of this charger at full speed. Let that sink in for a minute. You're also not stuck dealing with a slow 500mA charge that many cheap car chargers you got a year or two ago put out. You should be able to charge most devices at the same speed you would if you plugged them into a wall.
Now, if you're charging four devices while driving I'd strongly encourage you to not be looking at them during the driving part, but you should know that.
Beyond that you can fast charge four devices the Aukey AI-Power Quad-Port USB Car Charger looks nice and feels solid. It didn't heat up in my tests, but I didn't have a lot to throw at it (sadly, everything is charged because of their 5-port charger.) The documentation indicates it will warm up if you're pushing it to the maximum.
I'm not quite sure how this affects the car battery in terms of power draw. A car with a decent alternator shouldn't have any problem powering through without ever touching the battery, but I've driven many a car with bad batteries and even worse alternators in the past, along with vehicles that refused to turn off a power port when the car was off.
While going from 500mA to 2000mA probably isn't going to phase anything modern, if you're in a brown 87 Nissan Sentra with an eight year old Interstate battery, you might want to make sure your jumper cables are handy if you're planning on charging four iPad Airs at once.
Coming in at a reasonable price, an 18-month warranty, and maintaining a 4.9-star rating on Amazon, it's something to strongly consider if you need to power a lot of devices in your car.
The Aukey AI-Power Quad-Port USB Car Charger is available on Amazon for $19.99 and it's worth it.