Inateck USB to Micro USB B Cable + Lightning Adapter review
If you deal a lot with iDevices and Androids, you've probably run into the problem of not having the right cable to either transfer data or simply charge one or the other, or maybe you've ended up with the wrong cable packed by mistake. Inateck has just released a new cable with the option of data transfer/charge to either a Lightning Adapter (Apple,) or micro B USB (everything else).
The cable is flat, which helps prevent tangling and kinking the nearly four-foot cable, and the connectors are gold plated, which – according to a friend of mine who works at Sony – is a nice marketing gimmick, but doesn't do much unless you're gold end to end. And even then, since we're digital doesn't help much.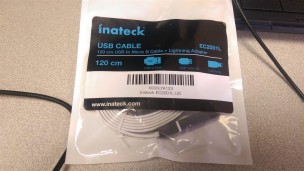 At the phone side of the cable, you've got an adapter that's slightly over one inch that takes the micro USB connector and switches it into a Lightning connector. This part is detachable and if you lose it you've got a relatively expensive micro USB cable that can't talk to Apple products. I say relatively expensive because micro USB cables are nowhere in the price range Lightning Adapter cables are.
The ability to lose the adapter is where I wish there was a design change. A little plastic piece to keep the adapter connected to the cable would make it invaluable to IT professionals, and people who just have device-agnostic views when it comes to Apple lines.
Without a way to secure the adapter built in, you're going to need to keep up with the thing. This might not be a particularly big deal to most, but as I travel from floor to floor at work battling various phone and computer issues, it would be nice to not have to remember the last time I had to use cable in Android mode and whose desk I might have left the adapter on.
If you're on the Apple side and just want to occasionally help an Android friend out, it's a great and economical cable to have if you're contemplating replacing a dying Lightning cable.
Not to say that's a dealbreaker, if you're looking for a Lightning cable this comes in at a lower price on Amazon than Apple's Lightning only offerings. It's a good deal if you need a cable from a company that will stand behind their products.
From what I can tell, as a Micro USB cable it does what it's supposed to and doesn't feel cheaply made. As a Lightning cable, it does what it's supposed to and doesn't feel cheaply made. As a dual-systems cable it does what it's supposed to but not quite what I want it to as you can lose a portion of it.
If you regularly pack and only want to have to keep up with one cable, it's probably something you'll want to add to your tech arsenal.
The Inateck USB to micro USB B Cable + Lightning Adapter is available from for $12.99.