Google has officially stopped selling the Nexus 7 and Nexus 10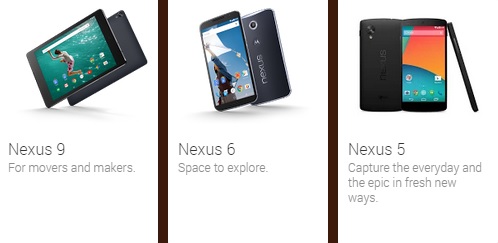 We knew this day would come, and it's finally here: Google has stopped selling all versions of the 2013 Nexus 7 by ASUS, along with the Nexus 10 by Samsung.
When visiting the Devices section of the Play Store on the web, users are greeted with three Nexus options, two of which are new: the Nexus 5 by LG, the Nexus 6 by Motorola, and the Nexus 9 by HTC.
This seems in line with previous indications that Google will continue selling the Nexus 5 alongside the Nexus 6, instead of replacing the it with the new device. Unfortunately, users purchasing directly from Google won't get any price breaks, as it is currently listed at $349 for the 16GB version and $399 for the 32GB version.
The Nexus 6 is simply listed as "coming soon," so Google isn't taking any preorders yet. It comes in either "midnight blue" or "cloud white," and is priced at $649 for the 32GB version and $699 for the 64GB version.
Finally, the Nexus 9 is available for pre-order, with current shipping estimates of 2-3 weeks. It is available in "indigo black," "lunar white," and "sand." The 16GB WiFi only version is $399, the 32GB WiFi only version is $479, and the 32GB LTE version is $599.
[
Google
]