Sprint gives customers 500 freee monthly minutes to Mexico, Spain, Brazil and more through 2015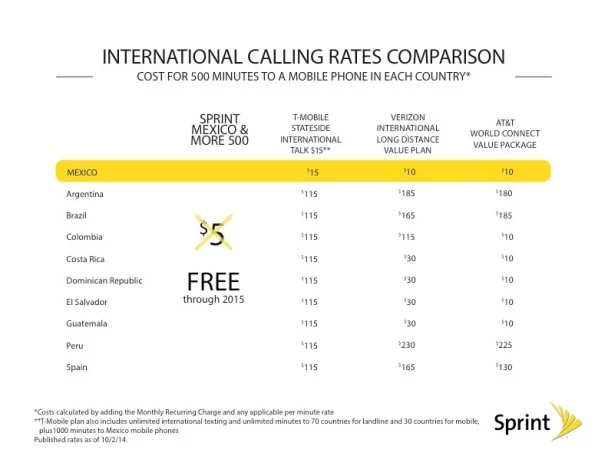 In another effort to compete on price with T-Mobile, AT&T, and Verizon, Sprint announced late last week that it would now provide 500 free minutes of calling every month through 2014 to mobile phones and landlines in Mexico, Argentina, Brazil, Colombia, Costa Rica, the Dominican Republic, El Salvador, Guatemala, Peru, and Spain. This special pricing is available to anyone who adds the Sprint Mexico & More 500 plan, which will cost $5/month after 2015.
Additionally, after the 500 minutes are exhausted, calls to Mexico are just a penny per minute. Low per minute rates will also be offered to the other countries.
Interested customers must add this feature to their account before December 5, after which it will no longer be available. Once it's added for free, though, customers will be able to enjoy it until December 31, 2015, after which it will jump to $5 per month.
T-Mobile recently launched discounted international calling, including a $15 unlimited plan, so it will be interesting to see if the carrier is ready to counter Sprint's moves with more aggressive international calling pricing.
[
Sprint
]